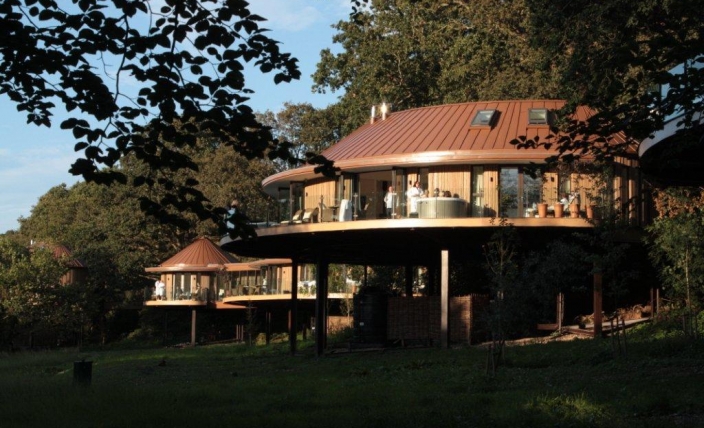 Blue Forest Design Luxury Treehouse Suites for Chewton Glen Hotel.
15th August 2011
Planning permission has been granted for six luxurious tree house eco-lodges. The lodges will be built in the grounds of award winning Chewton Glen Hotel, Hampshire. Blue Forest were approach by the hotel and their architect Terrance O'Roucke to provide the creative design of the tree house lodges.
"The look and feel will be that of a 'lily pad' floating in the Chewton Bunny Valley, which runs down to the Solent Coast" explained Chewton Glen's managing director, Andrew Stembridge.
Each unit has been sympathetically positioned around the trees and topology of the site and the design echoes the natural environment in which they are built. Access to these new suites will be by golf buggy or foot only, across a short wooden bridge. Inside, floor-to-ceiling windows, vaulted ceilings, secret bunk rooms, wood burners and 3m-wide hardwood decks will help enhance a sense of place amongst the tree canopy. Oversized tubs with woodland views and double rainforest showers will further emphasise the link with nature. Eco-credentials of the lodges include the rainwater harvesting, air-source heat pumps, solar panels, sedum roofs and low-energy lighting.
Work will get under way on the £6m project, which will include the development of a one-acre walled garden and an expanded car park, in September 2011. The lodges are being built by an independent contractor with ongoing architectural services provided by Terence O'Rourke. The scheme is due to be completed in June 2012.
Related Articles

With the hotels ethos "to offer you an environment that provides balance, requires no compromises and one which...read more

We love these super creative interior design ideas for kid's treehouses and playrooms, with their charming details...read more

As forecasters accurately predicted, August was replete with disappointing weather. However much to our delight, the...read more
Call 01892 75 00 90
for your free consultation.
Alternatively click here to email us, download our digital brochure or order a hard copy.
You can also subscribe to our newsletter.
Beyond expectations…

Dean Hartley, Scotland

Great craftsmanship! We particularly love the beautiful owl finial.

Laura Butterworth, New Beacon School Business Manager

We were very impressed with the team. They were very polite and knowledgeable and keen to help to enable the build to run as smoothly as possible. They also left the site very tidy.

Laura Butterworth, New Beacon School Business Manager

Such a lovely team. We thoroughly enjoyed having them here.

Peter Kelly, Buckinghamshire

It is rare to work with a company which delivers on time, within budget and with such quality execution. Please extend my thanks to the whole team. Great work.

Private Client, Geneva

Great team, all very professional and happy to talk through any point of concern.

Dean Hartley, Scotland

The whole team was responsive, hardworking, tidy, discreet, industrious, thoughtful and fun.

Kevin Philbin, Stamford

We are delighted with the finished treehouse. The willingness to accommodate our changes without complaint and the clear desire to deliver a fabulous product with a smile on your faces has been a revelation – very refreshing in this day and age!

Kevin Philbin, Stamford

[Comments regarding reliability, integrity and professionalism…] 100 + 10% on all fronts!

Jamie and Angela Matheson, Scotland

The completed tree house fulfils all our expectations. It has achieved a mystical and exciting appearance and is a pleasure to share with all who see it.

Peter and Jennifer Tallon, Suffolk

We cannot speak highly enough about the installation team. Their work was of the best quality and attention to detail was second to none. The long hours and client care put in by them was amazing.

Peter and Jennifer Tallon, Suffolk

2018 is set to be a very exciting year at the Farncombe Estate.

Commercial Director, Chris Ward

Buccleuch have had an exceptional visitor response to the Dalkeith Country Park 'Fort Douglas' development, in terms of numbers, revenue and enthusiastic customer feedback. The Blue Forest team worked with a complicated and technically challenging site, to a competitive price and a compressed programme; all with professionalism and creativity. A great product.

James Palmer, Associate Director, Buccleuch Property

If my grandchildren are anything to go by, the Tree House and Adventure Playground will be top of everyone's must visit list this summer.

Lord Rosse, Owner Birr Castle, Ireland

The children and parents are talking about it, because it is different and the building has made the 'statement' that I hoped that it would.

Michael Wilson, Headmaster, Cranleigh School, Surrey

It is so beautifully constructed, the moment the doors are opened and that lovely wood smell emanates from inside is delicious.

Brigitte & Martin Skan, Hampshire, UK

The Blue Forest team are very easy to work with, they are professional and friendly and quickly understand what the project requirements are.

Rob Holgate, Managing Director , Vectis Ventures

In regard to work ethic, Blue Forest are top class. They get the job done without excuses.

Tobyn Thomas, Principal Thomas's London Day Schools

The tree house is fantastic and is everything we were hoping it would be. It fits into the landscape perfectly. The design and finish has perfectly translated the brief and vision. We love it!

Nick Tappin, Bursar, Hazelwood School, Surrey, UK

I cannot fault anything. The team were a total delight and their workmanship and professionalism were first class. We are thrilled with the result!

Natasha Kaplinsky, Sussex, UK

We are very pleased with the design and realisation of the tree house, which is even more beautiful than we thought it might be.

Mr & Mrs Black, Oxfordshire, UK

It was thrilling to see the vast slide tower now complete and the Giant Nest looking majestic and imposing! The new bridge over the Giant Nest gives a scale of immense grandeur which is wonderful.

Deb Jordan, Owner of Pensthorpe Wildlife & Gardens

We always wanted the tree house design to be inspirational and sustainable and an education in itself. Now we have the reality, it is more amazing than we could have imagined!

David Bridges, Director, Countryside Education Trust

This revolutionary design will accommodate the activities of children all around the country.

Lord Montagu of Beaulieu

We are delighted that so many people will be able to experience the wonders of the National Park in and around this amazing building.

Nigel Matthews, The New Forest National Park Authority's Head of Visitor Services

It is far too nice for the kids, I'm thinking about moving in myself!

Mr A Staley, UK

If you want to get the kids out the house and playing in the great outdoors then there really is nothing better than a tree house.

Mr D Woodward, UK

It looks fantastic! Even lovelier than we imagined. A beautiful job, thank you!

Peter Kelly, Buckinghamshire

Blue Forest will work hard to understand your brief and continue designing it in an open and collaborative manner until the brief is met.

Tobyn Thomas, Principal Thomas's London Day Schools

The product is everything we were promised & more. The attention to detail is extraordinary & the craftsmanship really immaculate. We cannot praise the whole process & the finished product highly enough. Thank you!

Natasha Kaplinsky, Sussex

Everyone who has seen [the tree house] has been mightily impressed. It will be a great asset for years to come.

Mr & Mrs Black, Oxfordshire

A highly professional team: very skilled, hard-working, creative at solving problems and a pleasure to have working for us. They left the garden in good shape when they had finished. We'd be happy to have them work for us again and highly recommend them.

Mr & Mrs Black, Oxfordshire

It was a great pleasure to be invited to officially open the Woodland Retreat. I hope that it brings significant benefits to the young people who will use it and that it will help them to regain confidence in themselves.

HRH the Duke of Gloucester The Kings Fund

The Blue Forest scheme was innovative from the outset and was particularly desirable because it was so unique and appealing to a number of markets.

Andrew Stembridge, Managing Director, Chewton Glen Hotel & Spa

The new Eco Classroom looks amazing, and I'm sure the school will get a lot of use out of it. The structure and steps appear very solid and the cladding helps it to blend in well with the surroundings.

Paula Downard, Landscape Architect, Hampshire County Council

If I closed my eyes and opened them, this is exactly what I had in my mind.

Michael T Wilson, Headmaster, Cranleigh Preparatory School

We are the very happy owners of a superb BlueForest tree house…

Mr & Mrs Petitgas, Private Client, London

Thanks to Peter for the trunk in Jordan's tree house. It's great and very much appreciated.

Hugo Mundy, Private Client, Ascot

Thank you so much, we are very happy with your work and it's a beautiful bridge.

Mahesh .R. Agnihotri, Chief Engineer Soneva Fushi Resort & Sixsenses Spas, The Maldives

Cliff Richard, an old mate of mine and a garden fanatic, saw one at the Chelsea Flower Show and told me it was just what I needed for my new place in Surrey.

Mr David Lloyd, Private Client, Surrey

Why should children have all the fun? There's room in the branches for grown up adults…

Sonia Purnell, The Sunday Telegraph

It's somewhere wonderful for us to hide away and get some peace.

Mr Subra, Private Client, Chichester

Best team of workers we have ever had, 100% professional, friendly & reliable. The treehouse is the envy of everyone, every last detail absolutely perfect.

Mrs Hills, Kent, UK

It was a big investment to make but the finished treehouse really feels like an investment and not an expense.

Mr Keeling, Hertfordshire, UK

I am very pleased with the treehouse and it looks great. It has been a pleasure to have the boys work on it, they are all very professional.

Mr Ross Cumbria, UK

The finished treehouse is amazing as it blends in with the whole woodland and is like stepping into another world.

Mrs Clayton, Cornwall, UK

I'd like to thank you all for all your hard work over the past 6 months. [The treehouse] looks great and we have a lot of happy children... mission accomplished.

Emma French, Sensatori Manager, UK

We are thrilled with Cherry Treehouse, and it is set to become an enchanting place of wonder, creativity, and reflection for generations of Feltonfleet children in the future. Blue Forest have delivered exactly what they promised, and more, and we are enormously grateful to them.

Philip Ward, Headmaster – Feltonfleet School, UK

It has proved so successful we are quite staggered by its popularity.

Martin Cummings, Amberley Castle Hotel, UK

From my team point of view I've found working with your company to be an easy, hassle free experience with an excellent end result and happy client. Can't say better than that! As opportunities arise I would be happy to use you again.

William Parker, Architect, Hampshire County Co, UK

This facility will enable classes to undertake fieldwork in the School grounds and will greatly enhance many aspects of the curriculum as well as providing a facility for use by local schools.

Anthony Cawley, Benenden School Estates Bursar, UK

Great TV programme guys and nice work - what brilliant treehouses.

Mr Mac Mclennan, UK

The judges were simply blown away by Blue Forest – truly a world leader in its field with a very exciting future.

Mike Herd, Chair of the Judges, Sussex Business Awards

As always the competition for Sussex Company of the Year was fierce but Blue Forest stood out as an exemplar business and are worthy winners...

Julien Jones, Area Director at Morgan Sindall

The success of the Woodland Retreat is substantiated by a reduction in the length of admission by 10 days, an 8.5% reduction in self-harming incidents, and a 65% reduction in the incidents of violence and aggression.

Jon Campbell, Head of Capital Projects and Design

The young people who use our services said they wanted a place that was totally different from the clinical surroundings of the ward, which prompted the development of the Woodland Retreat. Many of the young people who access our services have had poor life experiences and we hope that the retreat will help to build their confidence and make them feel valued.

Keith Walker, Specialist Services Director at Pennine Care NHS Foundation Trust

We were particularly impressed with the imagination shown by the trust in recognising how a very challenging, sloping site could be redesigned to provide such a stunning, interesting and engaging space for young people.

Right Honourable Michael Portillo, Building Better Healthcare Awards 2013