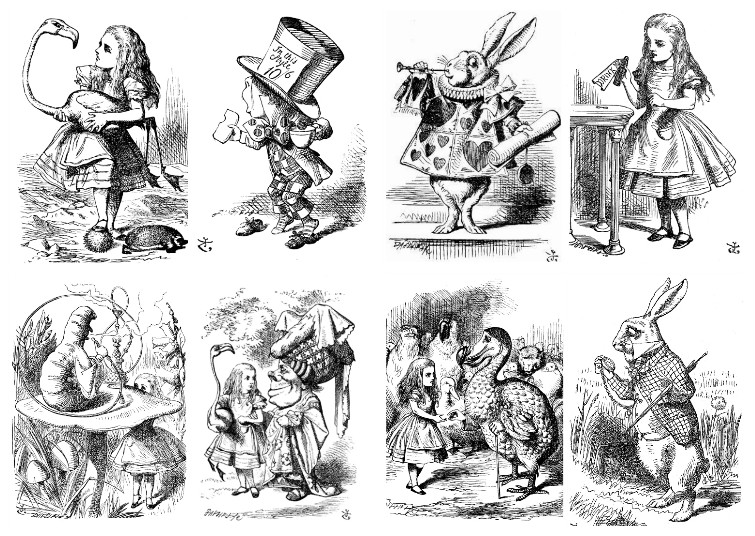 Five ways to celebrate 150 years of Alice in Wonderland
26th November 2015
In a world full of technology and video games, it takes something quite extraordinary to capture the imagination in the same way it did 150 years ago. Lewis Carroll's Alice's Adventures in Wonderland has stood the test of time and remains one of the most iconic examples of children's literature.
First published on November 26, 1865, the fantasy world of talking creatures, secret doors and magic potions continues to charm children and adults across the world.
Carroll's legacy has lived on through a string of adaptations including a Disney sequel set to hit the big screen in the Spring. We were delighted to fulfil our client's dream of having a whimsical, wonderland-themed treehouse inspired by the book.
We are big fans here at Blue Forest. Carroll shared our fascination with the innocent way children imagine and interact with the world around them.
Inspired by some of Carroll's most iconic quotes, here are five ways you and your family can celebrate 150 years of Alice in Wonderland:
"Oh my furry whiskers, I'm late I'm late!"
The first of Alice's enchanted encounters is with the White Rabbit. She follows the rabbit down a hole into Wonderland. Pocket-watch in hand, the rabbit anxiously mutters about being late for a very important date.
Having had a warmer than average autumn, many woodland critters may also be running late on their hibernation preparations this year. Spend the day helping them out by building safe and warm natural sanctuaries.
Build a hedgehog shelter by leaning an old board against a wall, fence or log and cover it with leaves and soil. Enveloping it in branches will help to secure the shelter from the wind. To find out how to help protect more of Britain's wildlife this winter, the Wildlife Trust's website provides plenty of information on how to care for hibernating animals.
"Will you play croquet with the Queen today?"
In one chapter, the Queen of Hearts challenges Alice to a game of croquet. In a Wonderland twist, the game is played using flamingoes and hedgehogs instead of mallets and balls, although the animals move on their own accord unbeknown to the oblivious queen.
In honour of the Queen fill your day with Wonderland-inspired games. Croquet can be great fun if you can get outside, but if the weather is not on your side there are plenty of indoor activities you can enjoy.
Just like the Queen, build your own army of playing cards. To play this game split yourselves into teams. Give each team a deck of cards and a level stable surface. Then, on a count of three, each of the teams must race to build a tower of cards. The first team to build a freestanding tower with all of their cards wins. Ready, set, go!
"It's always tea time!"
As a nation of tea lovers most of us can always find time for a nice hot cuppa, but for the Mad Hatter and March Hare it is quite literally always time for tea. In Carroll's story, the madcap duo are trapped in time at a never-ending tea party. The outlandish affair involves switching places at the table at any given time, reciting nonsensical poetry and asking impossible riddles.
Why not host your very own Mad Hatter's tea party making it as wacky and wonderful as you wish. Cover a long table with mismatched teacups, teapots of all shapes and sizes and curious objects such as keys, feathers and playing cards. To add to the nonsense, write down some riddles to use as placecards.
Once the table is set, serve up a platter of sandwiches and biscuits on a cake stand and provide a selection of colourful drinks such as fruit tea.
"How puzzling all of these changes are, I'm never sure what I'm going to be."
Alice experiences many transformations during her time in Wonderland. Consuming magical potions causes her to shrink and grow to outrageous sizes. At one point her neck grows so long that she is mistaken for a serpent. It is not just Alice who transforms. In one chapter she is given a baby to look after which, to her surprise, transforms into a pig.

You too can transform into something else by dressing as your favourite character. Whether you decide to don Alice's dress, wear your biggest Cheshire Cat grin or twin up with someone to become Tweedledee and Tweedledum, www.alice-in-wonderland.net provides great costume ideas and dressing up tips for children and grown-ups.
"The Queen of Hearts, she made some tarts."
Scandal strikes in Wonderland when the Queen's precious jam tarts are stolen. The rhyme goes that the Knave of Hearts stole her tarts and took the clean away. After being caught red handed, the Knave of Hearts brings back the tarts and vows to steal no more.
Why not have a go at baking the Queen's favourites yourself with this delicious recipe. Jam tarts are a quintessential British teatime treat that are relatively simple to bake. The Queen preferred a strawberry jam filling but you can mix it up with marmalade, blackcurrant and lemon curd fillings. Alternatively why not have a go at baking other classic 19th century treats such as bakewell tarts and Victoria sponge.

Related Articles

Working for Blue Forest, architect Philip Ryan is able to combine his passion for magic and love for natural building...read more

Showcasing the very best in treehouse design and outdoor inspiration, these are the Instagram accounts that we love to...read more

Today, we're going to be looking at the impact treehouses can have on trees, as well as the methods by which we can...read more