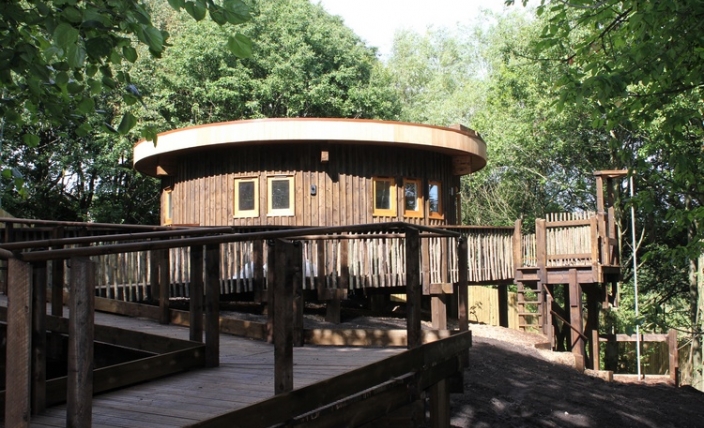 Woodland Retreat Wins Award
8th November 2013
Blue Forest's innovative woodland retreat design has won an award for Best External Environment at the Building Better Healthcare awards 2013.
Based in Bury, the state-of-the-art treehouse is the first mental health unit of its kind in the country and introduced young people from Pennine Care's nearby Hope and Horizon units to relaxation and learning, enhancing the units' therapeutic approach.
The judges said:
"We were particularly impressed with the imagination shown by the trust in recognising how a very challenging, sloping site could be redesigned to provide such a stunning, interesting and engaging space for young people."
Pennine Care funded the £178,000 development, helped by a £100,000 grant from the Department of Health via the King's Fund. The Blue Forest team offered the unique opportunity for the patients themselves to help develop the design in a practical and collaborative process.
Andy Payne, Blue Forest's Managing Director said:
"The space utilised was in an area of wasteland and careful thought was given in the design of the tree house to ensure that the structure is in keeping with its host environment. Key considerations included the selection and sourcing of materials, management practice, construction methods, conservation and waste management."
Keith Walker, Specialist Services Director at Pennine Care NHS Foundation Trust, said: "Treating young people that have a mental illness can be challenging, often involving difficult behaviour, so it's important that we find new and engaging ways of supporting their rehabilitation. The young people who use our services said they wanted a place that was totally different from the clinical surroundings of the ward, which prompted the development of the Woodland Retreat. Many of the young people who access our services have had poor life experiences and we hope that the retreat will help to build their confidence and make them feel valued."
The success of the retreat has been proven by:
     • reducing the length of admissions by 10 days,
     • 65% reduction in the incidents of violence and aggression,
     • 8.5% reduction in self-harming incidents.
Established in 2008 The Hope Unit is an acute psychiatric inpatient service for young people ensuring they receive the treatment they need in an age appropriate environment. The Horizon Unit, which opened in 2010, was developed to enhance Pennine Care's ability to support young people with complex mental health problems. Between the two units there are 22 beds for young people aged 13-18, who receive treatment for a full range of complex mental health or psychiatric disorders.
Related Articles

Christmas is fast becoming a distant memory and it's easy to slip into hibernation-mode after a week of indulgence,...read more

Blue Forest is delighted to be exhibiting a luxury, fairy-tale tree house at the RHS Chelsea Flower 2018. The...read more

Blue Forest are delighted to have been appointed as the lead design consultants assisting in the creation of Europe's...read more