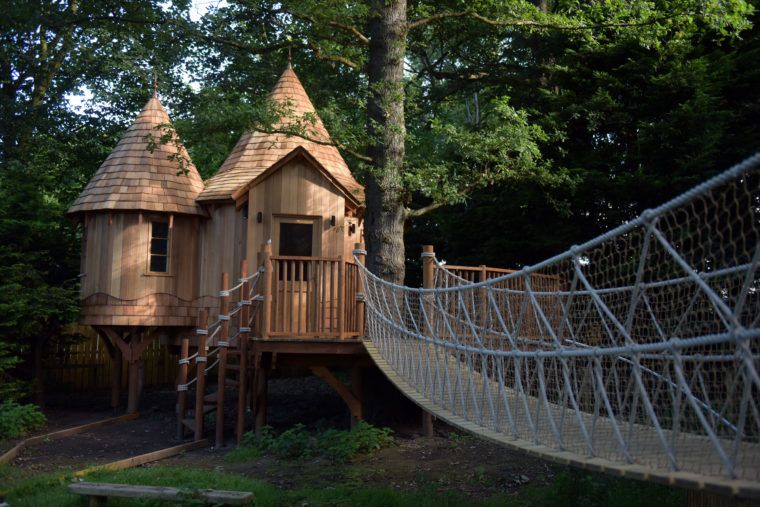 We understand that the enduring appeal of the great outdoors begins in childhood, so what could be better than having a nursery treehouse for generations of young children to enjoy? This summer, Blue Forest completed a picture-perfect treehouse nestled in the woodland grounds of a children's nursery in Scotland. From slides to mini zip wires, this playhouse has been designed to keep energetic and inquisitive children entertained outside for hours.
It may sound like the stuff of children's novels, but treehouse classrooms are increasingly recognised as facilities that can offer new and engaging learning experiences to school children of all ages. It's a much more inspiring way to utilise space than the usual brick buildings or porta-cabins often used by schools and will inevitably cultivate more creativity in the users.
Blue Forest used the surrounding beauty of the Scottish countryside to create a one-of-a-kind, organic design that invites a wholesome connection with Mother Nature.  The separation of space from the main nursery will likely also inspire new ideas and games.
Acting not only as a wonderful hideaway for the children but also as a practical and user-friendly open plan learning space, the nursery treehouse has a charming fairy-tale style. The treehouse includes turrets clad in Cedar shingles, handmade double glazed windows and lighting and electrical installation so it can be used all year round.
Making use of the fantastic mature trees in the area, the design includes additional neighbouring look-out decks and crows nests connected by rope bridges. With adventure and imagination at the heart of all our designs, it's not surprising that a lot of the parents are effortlessly embracing their inner children and are asking to join in too.