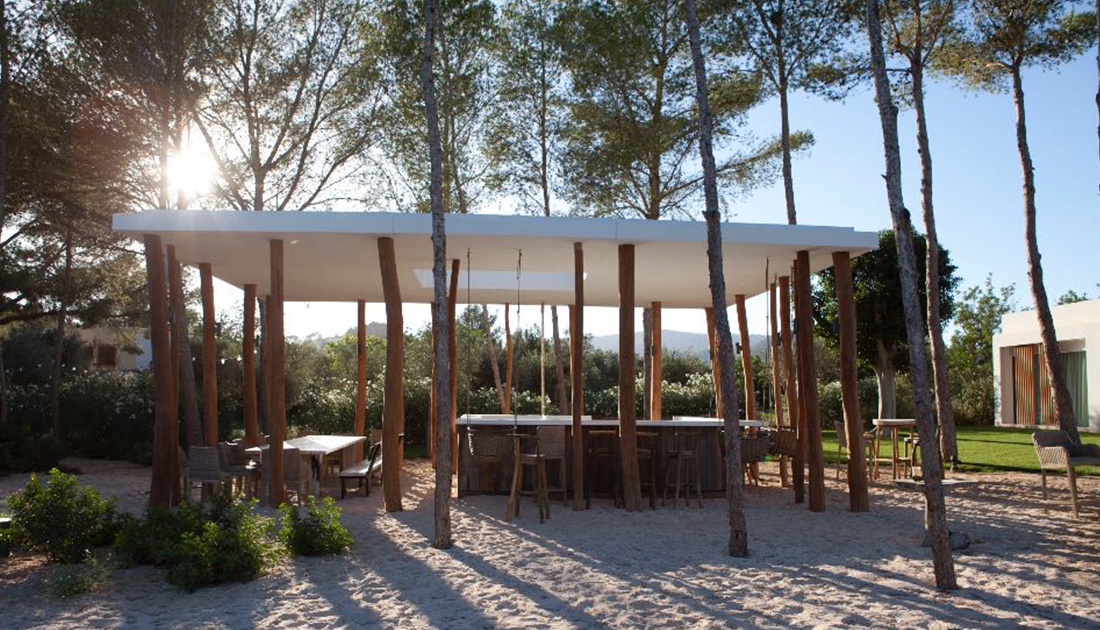 In our opinion, sitting on a warm sandy beach with a drink in your hand is as close to perfect as it gets. Our client wanted to create a beach bar in the grounds of his Ibiza home dedicated to entertaining friends and holding parties. We loved the idea and were keen to start designing the space.
Since the landscape was rather different to the rich green British countryside we're usually used to working with, (think dry, rocky ground and tall thin eucalyptus trees), it was important to keep the design neutral and clean whilst also reflecting the contemporary, minimal style of the main house. We wanted to create the appearance that the bar was mingled in among the trees, so the final scheme blends into the sparse and dry surroundings.
The team started to explore and develop some different ideas and created the Sky Beach Bar design, a unique and inspiring space that the client would be able to enjoy for years to come.
The team produced some fantastic mood boards and photo-realistic images of the design for the client to get a real sense of what it would look like when built.
The spectacular, minimal roof appears to float through the trees. Made from snow-white Krion, the roof will be long-lasting and has a natural stone look – due to its anti-bacterial properties the material has also been used for the worktop surfaces. Every care has been taken to make the beach bar as environmentally friendly as possible; Krion is 100% recyclable and the bar cladding is made from reclaimed pine.
De-barked Robina poles support the roof – chosen for their natural curved shape, strength and rot-resistant properties, they will eventually fade into a silvery colour to perfectly match the surrounding trees.
We laid down white sand on the ground to create the 'beach'. The swinging seats suspended from the roof are a feature that add a bit of fun to the scheme, and also avoids the problem of chair legs sinking into the sand. As you swing back and forth, relaxing in the shade with a cocktail in hand and your feet in the cool sand, you can look through the aperture in the roof up to the blue skies.
The beach bar is fitted with fridges for drinks and food, a BBQ grill, washing sink and ice drawers. A space for a DJ booth means that the party can be taken up a level and reflects the nightlife culture that the island is so famous for. A separate dining area allows for more communal al-fresco dining with family and atmospheric up-down lighting means that the party can be carried on well into the night, making the most of the balmy Ibiza evenings.