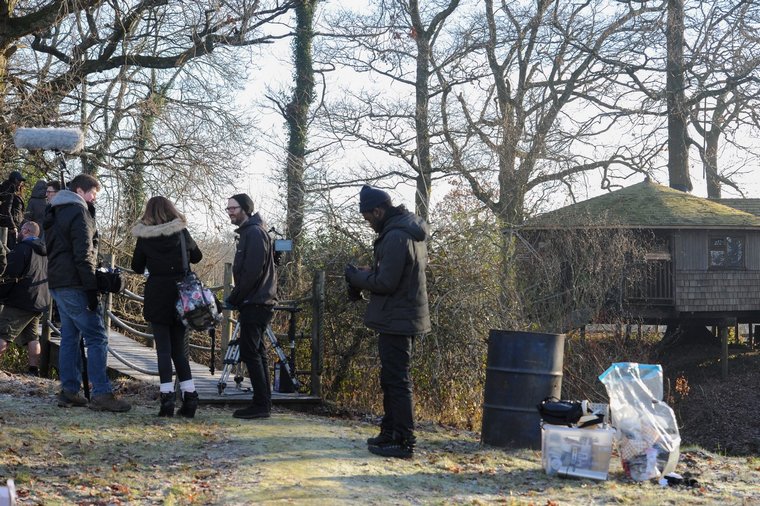 This month, Bensfield was turned into a military bunker treehouse film set when Hold Your Fire, a creative production company based in London, turned up on a cold sunny morning to shoot a short independent film. The team completely transformed the treehouse into an atmospheric den complete with props, smoke effects and netting.
The crew had already spent six days filming on location, and the Blue Forest HQ became a flurry of actors in costume, make-up artists and assistants with walkie talkies.
Two of the actors playing out a scene on the rope bridge…
Produced in partnership with the Royal British Legion, Hold Your Fire hope that the film will raise awareness of anxiety, mental health and adjustment disorders that military servicemen and women are at risk of suffering when leaving the service. The transition into civilian life can be a particularly difficult one, not just for the servicemen and women but also for their friends and families too.
A lucky few of us were invited to the treehouse film set to watch behind the scenes while the crew filmed a couple of takes. 'The film will be a charming topical comedy drama about rekindling old friendships,' explained Daniel Hammersley, Director of Hold Your Fire – 'It's a celebration of companionship and British rural communities, and the narrative follows two elderly gentlemen as they are reacquainted with one another after one has spent a lifetime in the military service.'
Once they were finished up, the team at Hold Your Fire went on to film in the local village of Wadhurst, taking over the pub and a few side alleys! Now all the filming is complete, the footage will be edited into the final piece and we can't wait to see it. The film should be ready for viewing in a few months time so watch this space!
A still from the film footage taken at Bensfield…