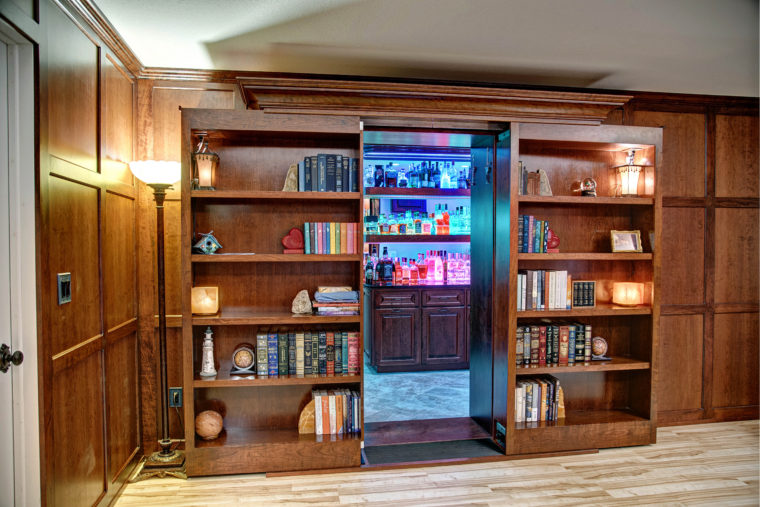 Over the years, we've included many secret doors and passageways in our treehouses. Take a look at the Adventure Clubhouse or The Magic Home for example. We love getting in touch with other people who have a passion for bringing a touch of magic into people's lives and were really wowed when we saw the creativity of Hidden Doors designs – from mirrors to bookcases, their doors open up in the most magical ways to reveal secret rooms and hideaway nooks. We got in touch and spoke with Jon Harris from Hidden Doors to find out more:
What's the story behind Hidden Doors – how did it all start?
Our founder – Steven Humble – dreamed one day of having a home filled with secret passageways. About 12 years ago, while at a totally different job engineering surgical lasers, he searched and found that no one was specialising in secret doors. He decided to leave and build his own company which started with a couple local clients and then grew internationally from there.
We build everything in our factory and then ship the entire expertly-assembled entryway system to the client's location – whether it's a home, business or even something unusual like a private airplane hangar.
After 12 years of building custom passageways for a global clientele, last year we launched a line of ready-to-ship hidden doors at: www.HiddenDoorStore.com
What makes hidden doors so magical and appealing?
Many of our childhood memories are imprinted with the secret doors we've seen in movies and books such as Batman, Harry Potter, or The Lion, the Witch & the Wardrobe ­­– but secret doors also have a powerfully practical use.
I think people are drawn to having a space – whether it's for themselves or their family and friends – where they can really feel free to have what they desire; in movies, this might mean a spy's armoury or a wizard's world, but to us this could mean peace of mind, relaxation, or entertainment.
75% of our orders are actually for security related purposes – whether that means protecting jewellery, precious metals, documents, firearms or even one's family. When a homeowner starts looking at the robbery statistics we realise just how inadequate common home security methods are. Overt safes attract criminals right to your valuables – and a quick search of Youtube shows how a few minutes with simple tools can open most any home safe. Instead, one can simply exchange a closet door for one of our secret doors, and voila – the homeowner has a whole personal vault – with a criminal not even knowing it's there.
But there's many reasons other than security. Sometimes it's as simple as keeping the ambience of a room by using a bookcase as a door in a library. Often our clients have it lead to something fantastic, such as a home theatre, an illuminated speakeasy bar (pictured), or a play room (pictured). You know that feeling when you receive a present, and have the excitement of opening it up? When you've worked hard on building a room, the secret doors act as that wrapping that gives you and your guests that same sense of amazement every time that room is opened up.
After the purchase, the feedback we hear from our client is that they like multiple aspects. Our high security clients who may have a bullet proof hidden door still love the romance of the feature, and our clients who installed a door solely as a fun feature, end up also using the space to store valuables when travelling.
What sort of ways are these doors opened?
The opening trigger can be the most exciting decision for our clients. Our ready-to-ship doors come equipped with a magnet that needs to be placed near a certain part of the door frame to unlock. Our custom projects provide a whole range of options, including:
Placing king, queen and bishop pieces in a certain chessboard position
Pressing a certain country on a nearby globe
Bio-metric recognition
Playing a certain order of notes on a piano
What's the most unusual request you've ever had?
We had a imaginative client who built part of his estate to be designed like a pirate ship! He hired us to create two custom secret doors to access this ship area from other rooms of the house. Having recently visited an actual recovered, sunken pirate ship, Steve used that impression to create a lifelike function to this home. To mimic the sounds of a centuries-old boat, counter-balanced chains clinked in to motion when the doors started opening. To simulate the motions of the sea, vintage chandeliers were installed in the ceiling to sway in unison as if the boat had crashed into waves.
What is the most important factor your clients are looking for in a secret passageway?
We actually get calls weekly from homeowners who had a local contractor attempt to create a secret door that ultimately had major problems. There is a lot of engineering and speciality parts needed which is why people around the world come to us. There simply is not the proper hardware designed for secret doors commercially available; therefore, through the years we have invented and patented all sorts of hinges, latches and other hardware.
We're able to provide our clients with a product that is secret and perfectly concealed (home inspectors routinely miss our doors), fully functional (whether that means actually keeping books and art on a bookshelf or even a fire in a revolving fireplace) and durable to last for decades – while always looking beautifully crafted. Unfortunately, we've found that when homeowners rely on someone who doesn't specialize in secret doors, in the end they often feel like they've received more of a gimmick feature, often showing large gaps, poor material, non-functioning, warping, floor scratching, or any other number of issues.
This shouldn't be. We're thrilled that every project we've worked on becomes a huge feature for the clients home and home value.
What sort of design would you recommend if a client wanted a hidden door in a treehouse?
It is pretty safe to say that hidden doors in a treehouse would fall under the beautiful and fun category (not so much security) so we can be really whimsical in the possibilities. One fantastic option would be to access a treehouse only by opening a door to the hollowed-out tree trunk. Inside stands a ladder leading to the house above. It would be even more stunning for a client to instead enter a stump nearby leading to a small underground area beneath the main tree – with the ladder there to access the rest of the treehouse. Both these options are possible with the engineering features we have and making the most of the natural opportunity mother nature provides.
Tell us about your design process…
The first step is that a potential client will call us to describe their needs, such as sizing and if there are security requirements. The client will usually provide drawings or photos of the space, and we'll choose the ideal camouflage style – whether it's a bookcase, mirror, pool-cue rack or many other options. We create all sorts of elaborate designs and but can also carefully mimic furniture that is already in the home.
We then provide a written cost proposal with line items for all the features and options we think the client will like.  When the proposal is agreed we create a computer model of that area of the building including all the surrounding walls, and design the perfect secret passageway to fit the space.  With the design complete we create a comprehensive set of drawings to show to the customer so they can easily visualise the project and request any changes.  When the design is approved we then build it in our workshop, photograph it, and send it to wherever in the world it will be installed.