Treehouses are not just the makeshift structures we might have tried to put together as a child. They can be so much more than that. From music studios to quiet retreats, treehouses are so flexible (and a little bit magical) that they can be built to perform almost any function.
Every treehouse we've built at Blue Forest was designed to meet a particular need and of course to provide a blissful escape from all the trappings of our modern life.
We've listed ten popular ways our clients have chosen to use their Blue Forest treehouses and we hope it will inspire you to create your own perfect getaway.
1. Treehouse Kitchen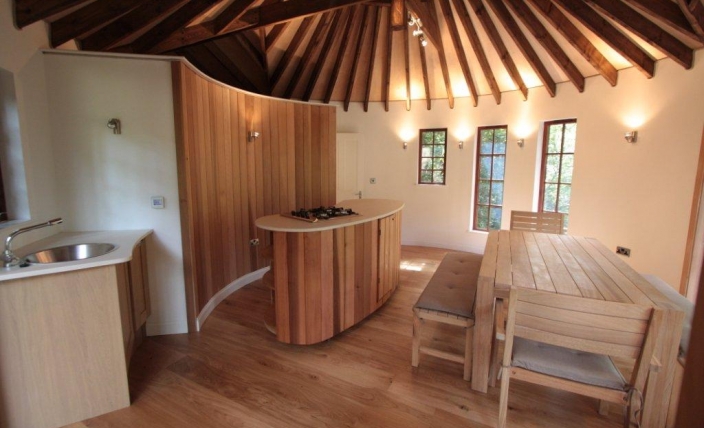 A Treehouse can be fitted with all the equipment needed for a fully functional kitchen. We built this treehouse kitchen specifically for The Pure Package gourmet food company it provides an inspiring venue for cookery lessons and testing new recipes.
Once you've finished cooking an amazing meal you can  sit on the deck (around the fire pit)l and just unwind. That's a kitchen no one can dread making dinner in!
2.  Eco Classroom Treehouse
We all wish we'd gone to school in a tree, like the lost boys of Peter Pan. At Blue Forest we've come close – having the opportunity to build several eco classrooms across Britain, like this one for Hazelwood School in Surrey.
Creating an interesting environment in which to learn is the perfect way to inspire the future generations. 
3. The Social Treehouse
Who needs a lounge when you have a treehouse? We've built some delightful entertaining areas like The Nook. Complete with outdoor seats and firepit, its the perfect setting for a gathering.
You can toast marshmallows on the fire or enjoy a glass of wine inside the treehouse – a sure fire way to a series of unforgettable experiences.
4. A Treetop Office or Studio
From art to accounting, a treehouse can really improve the experience of working from home, (or from a tree as the case may be!)
The Blue Forest Office Treehouse we built in Shropshire is enough to make anyone rethink what the term office really means. There is nothing dull about it: it's bespoke and beautiful.
A treehouse will also make an inspirational studio for writers and artists, up above the world and remote. We built this Art Studio with that in mind – it's a great place to create.
5. The High Tech Treehouse
A high tech treehouse can really work when done with subtlety and style. We built this High Tech Hideaway for a family in Greece, creating the ultimate James Bond style hideaway.
The contrast between newfangled gadgetery and natural wooden panelling can be striking. It makes a fun environment to play with your grown up toys like wide screen TVs, fancy coffee makers and perhaps the PlayStation. Think of it as your gadget grotto.
6. Yoga Retreat 
This ecoPERCH style building  is the  perfect setting for sun salutations and deep breathing, helping to generate and emphasize the calm associated with yoga. This Yoga Retreat is a perfect example of the harmonious way in which a building  can blend with its surroundings.
 Large windows looking out onto a wooded landscape or garden are sure to bring a deep sense of calm and peace – no reason why we couldn't build one raised up in the treetops!
7. Adventure Playground 
These  treehouses blur the distinction between "kids" and "grownups". All ages will want to play in a treehouse like the Birr Castle Tree House. Whizz down slides, swing from rope ladders and hoot like chimps.
Many of the adventure playgrounds we have built have been aimed quite specifically at children but that doesn't mean a grownup playground couldn't or shouldn't be done! Our adventure playground in Italy is a great example of the fun that can be had.
8. Woodland Retreat 
In conjunction with the NHS we built this NHS Woodland Retreat for vulnerable children. It's the first facility of its kind. Parents of children being treated requested somewhere that didn't feel overly clinical and a treehouse seemed to be the perfect solution, providing an idyllic spot for any sort of recovery. The peaceful environment and closeness to nature has had tangible benefits for those staying there. 
The retreat has helped to reduce the length of admissions by 10 days, there has been a 65% reduction in the incidents of violence and aggression and a 8.5% reduction in self-harming incidents.
9. A Quiet Treehouse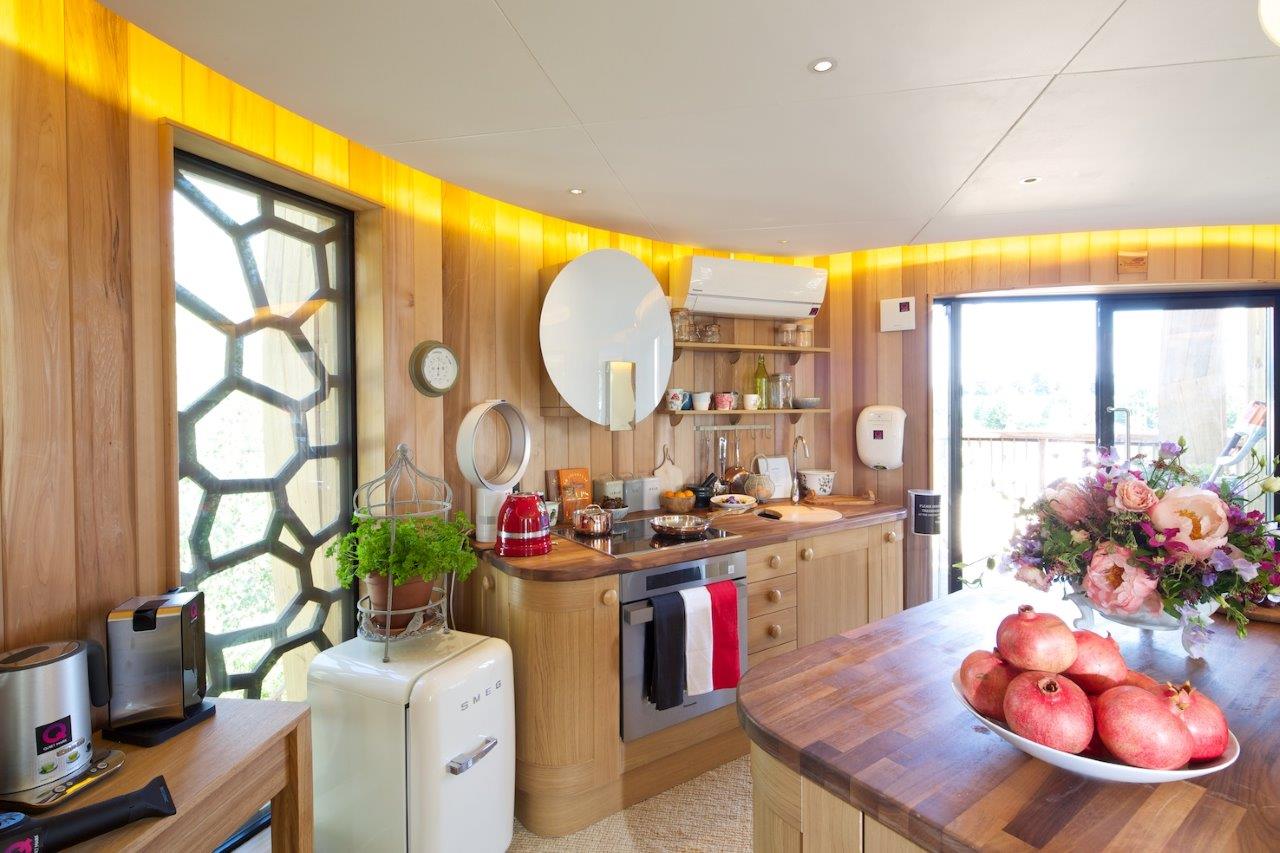 The world is a loud, bustling place. It's hard to read a book without noticing the whir of electricity and the hum of distant traffic.
Using state of the art technology it's possible to build a soundproof treehouse to create a truly peaceful space to escape. Last year we built the world's first Quiet Treehouse, in association with Quiet Mark and John Lewis. All the appliances inside are designed to make minimal noise and the bustle of the outside world is kept at bay with insulation technology.
10. Music Studio Treehouse 
If all the other ideas don't get your creative juices flowing then what about this Music Studio, built for a well known British recording artist.
 Built in the client's garden the ecoPERCH Music Studio provides a different mental space in which to exercise the creative muscles and is designed with such inspiration in mind. It's a great place to unwind at the end of the day or to do some serious work in.
There are many, many more things a treehouse can be, from a gym to a bakery or wine cellar and tasting room. The possibilities are endless and the Blue Forest team are always looking forward to discussing new and exciting projects.