Have you ever heard of underground trampoline lighting schemes? A Capital Play trampoline can transform a garden with fun and laughter, creating an exciting space for children to play. We find out why their products are simply the best, (it's all to do with airflow) and why their designs are proving to be a hit in the USA domestic market…
After years of designing superior trampolines for the UK domestic market, Capital Play has recently exploded onto the scene in the USA. Based from their showroom in the heart of Surrey, they have been manufacturing and selling amazing products since 2000. They've even been featured on ITV's This Morning. Now things are taking an exciting turn for the British company. You could say, they're bouncing into new territories. *ahem.
Just like us, Capital Play is a family enterprise through and through, run by two innovative brothers. Andrew Jameson first realised there was a gap in the market for high-quality outdoor toys, but it wasn't until his brother Paul joined the business that the UK's first in-ground trampoline was designed as part of their new product range.
Why are they the best on the market?
One of the most significant benefits of an in-ground trampoline is that it's a fun feature for the kids to play with, which is cleverly integrated into your landscape's design. They will never get bored of it, and it won't become a rusty eyesore at the back of your garden. Built into the ground, they just seem to feel more novel than the usual elevated trampolines.
Using a double frame system for outstanding durability, and patented vented pads to encourage airflow, Capital Play creates in-ground trampolines which perfectly combine performance, style and – of course – fun! Long associated with quality and excellent craftsmanship, British-made products are in high demand overseas, and these high-flying trampolines are no exception!
'Airflow is essential for in-ground trampolines' explains Sonia Lowde from Capital Play. 'The vented pads let the airflow through under the trampoline and stops it from feeling like a big inflatable pillow. Our products are made from commercial-grade materials, giving them a superior quality that our customers love. We also offer a choice of shapes and safety netting, so our customers can choose a design that perfectly works for their garden's space. The Americans have realised this, and they can't get enough of our British trampolines!'
Warch the Ace Family from America, using their Capital In-ground trampoline here:
Capital Play's success across the pond can be attributed to the fact that no one else is manufacturing anything similar – their designs are completely unique. Their trampolines are made by expert craftsmen in Europe, with careful attention given to every detail. For their international clients, there is a nostalgic association attached to something that's been 'made in Britain', and the Americans certainly seem to have a fondness for our culture and heritage. Capital Play trampolines seem to be particularly popular in California, Texas, Arizona and Utah, where everyone loves being out in the sunshine, and there's a wholesome, outdoorsy way of life.
Why is this such great news?
In the USA, everyone seems to love the idea of going bigger and better, on a super scale. One only needs to look at the treehouses that Pete Nelson builds on his TV show to see how they adore breaking the boundaries of design. In America, you don't just have one trampoline in your garden, you have three. We can't wait to see what Capital Play Trampolines do next in their new market.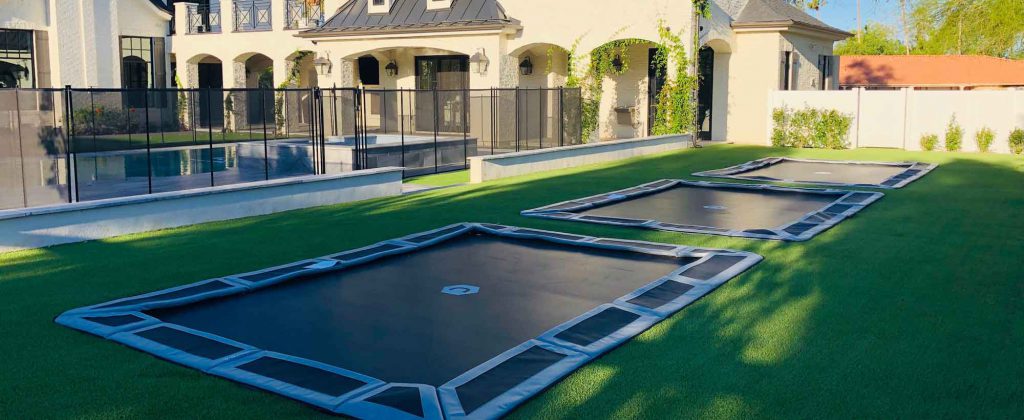 After speaking with Sonia, we got our imagination caps on. We started to think about all the ways a trampoline could be incorporated with our treehouse designs, and the sky is the limit! We are in awe of the additional features that can be included; from sound bounce speakers and basketball hoops to underground trampoline lighting. Some Blue Forest treehouses have been commissioned alongside a Capital Play Trampoline, so our clients recognise the synergy between the two products.
At Blue Forest, we are big fans of any business who creates innovative and fun designs that encourage people to feel closer to the great outdoors. Their exceptional products are a testament to their use of creative ideas, quality materials and expert designers. They are the Rolls Royce of trampolines, and you can feel it with every leap.
As anyone will know, we think that treehouses are for everyone, not just for kids – and the same goes for trampolines! 'Our customers love the fact that their kids can spend hours outside on their trampolines, but at a garden party or BBQ, all the grownups will have a bounce too!' explains Sonia. 'Many families struggle with managing their kid's screen time, and they worry about whether they are getting enough fresh air and exercise. With their strength and durability, Capital Play trampolines are never outgrown and still enjoyed when they are in their teens.'