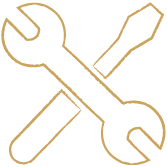 Aftercare & Maintenance
Our passion for perfection can be seen in every corner of your new treehouse, it's part of what makes Blue Forest the best in the business and it shows we love what we do. To make sure you enjoy your treehouse for many years to come we recommend our bespoke maintenance service; it is specifically tailored to your project, so you have the peace of mind going forward. Each year we will visit to inspect your treehouse, providing you with a written report. We will also update the maintenance log associated with your treehouse giving a certification that the building has been fully maintained to Blue Forest's exacting standards.
Our ongoing relationship with our clients is very important and we want you to enjoy your wonderful treehouse for many years to come!
our brochures
"It is rare to work with a company which delivers on time, within budget and with such quality execution. Please extend my thanks to the whole team. Great work."