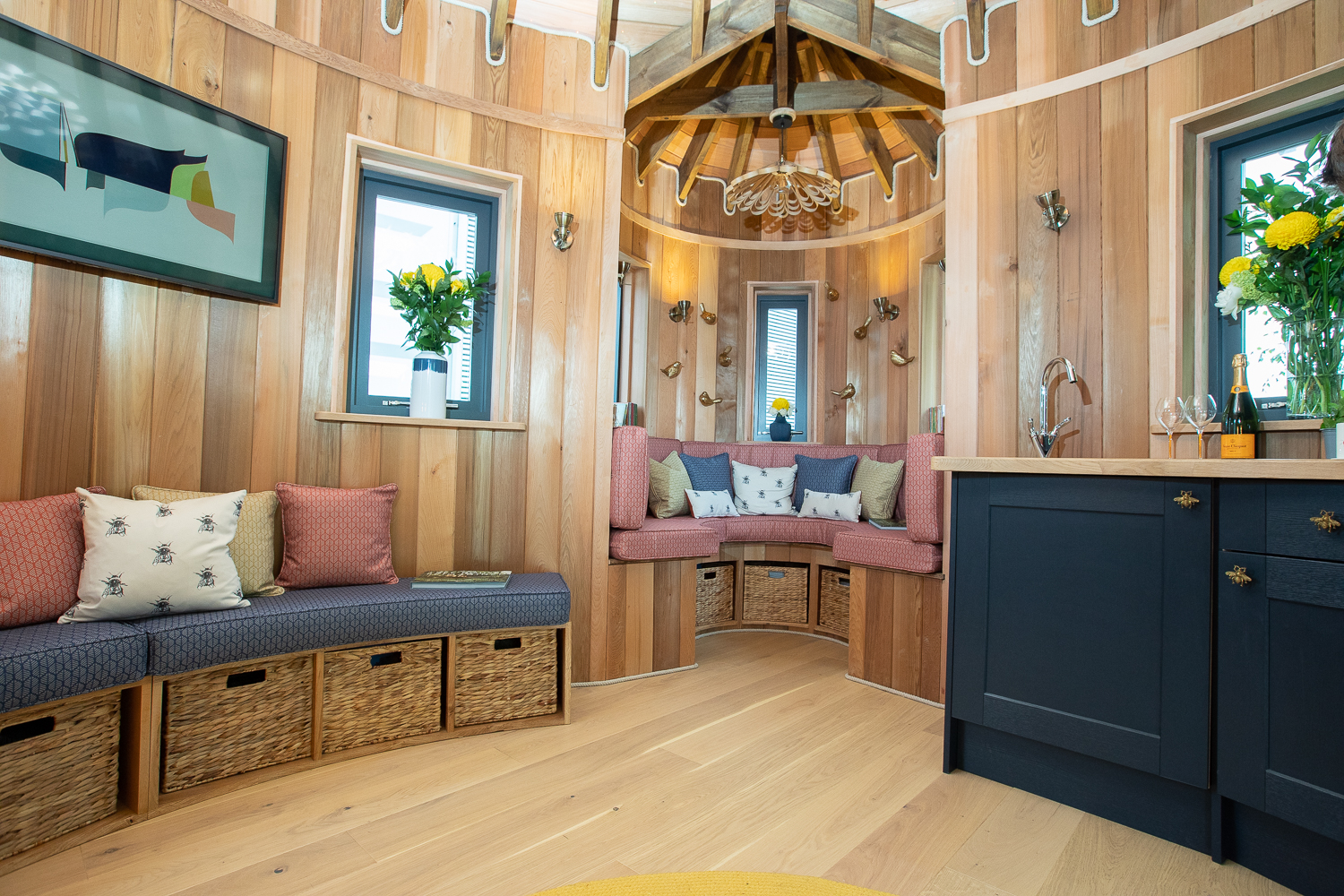 The Beehive: Get The Look
23rd May 2019
We believe that a treehouse should have the power to make someone say 'wow' as they walk in through the door. It's about consistently crafting premium designs, building superior treehouses to the highest of standards on every level, right down to those finishing touches.
We've been very happy to hear plenty of RHS Chelsea Flower Show visitors say 'wow' as they explore our new Beehive treehouse! The more people explore inside, the more they start to see – and despite the beautiful design, it's those little details that draw the eye and makes all the difference.
Everything in the treehouse has been included for its quality and playful design, whilst still looking visually attractive and in keeping with the style of the treehouse. We look at what's been included…
The unique design features bevelled edges, which creates a natural roof to help protect from rain. Hand-painted in a range of colours. From the Wuddle Etsy shop.
Bumble Bee drawer handles
These beautiful golden-hued handles are very sweet, adding a touch of vintage glamour to our navy blue drawers and cupboards. From the Little Empire Homeware Etsy shop.
These fabrics have a lovely natural leaf design which is rather reminiscent of a honeycomb pattern. The warm terracotta shade is used as the main colour as it blends in so nicely with the cedar-clad walls, but the additional blue and yellow cushions bring a nice pop of colour. From Panaz in Farrington Odell – in Terracotta, Ocean and Citrus
Hanging Planters, light pendants and swinging chair
The designs speak for themselves – the steam bent oak light pendants, hanging planters and swinging chair have been a huge hit with Chelsea visitors all week. We love the use of natural materials and how the curved shapes perfectly suit our round treehouse. From Tom Raffield
With intricate feathered details and delicately cast faces, these little birds are the perfect way to add interest to a room. From Cox and Cox.
Bespoke Windows and Doors
Many thanks to Make Limited for donating their expertly crafted doors and windows to the treehouse. A family-run business based in the heart of the Lake District, Make Ltd manufacture and install specialist purpose-made joinery and shop fittings throughout the UK. They have very kindly provided the wonderful front door, sliding curved bi-fold doors and all the windows for our treehouse – and they look fantastic!
Gemma has some beautifully illustrated nature designs over on her textiles website. Of course, the bees were ideal for our buzzy treehouse, but there's also bluebells, foxes, hares and much more to choose from! From Gemma Keith Designs
Expertly made from white oak and given a lacquered finish to show off its warm natural beauty, it has four generous cubby holes to stow away boots and shoes, games and books. From the Cotswold Company
If you have any additional questions then contact us and we can put you in touch with our interior designer, who can point you in the right direction! Blue Forest offers a full interior design service to help you to transform the inside of your treehouse into your ultimate dream hideaway! 
Related Articles

We understand that the enduring appeal of the great outdoors begins in childhood, so what could be better than having a...read more

Charlie has been with us for just under a year now, working hard to make sure that every Blue Forest treehouse project...read more

You only have to see a picture of Eve suspended in the trees at Free Spirit Tree Spheres Resort in Canada to...read more