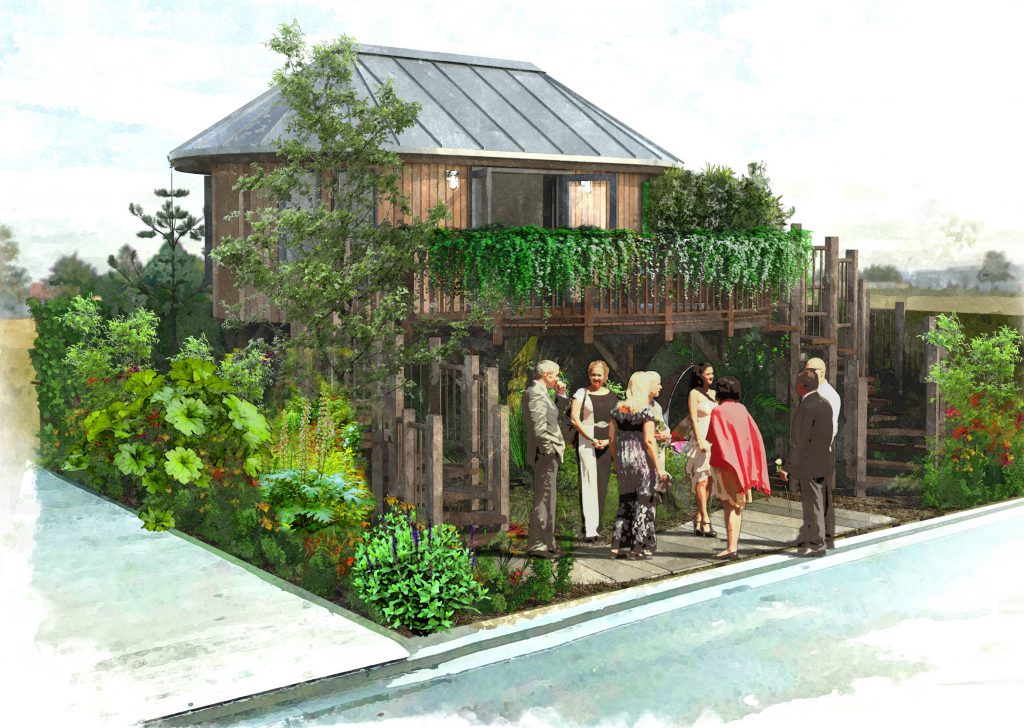 We are delighted to be back at the prestigious RHS Chelsea Flower Show this year, and will once again be showcasing a spectacular, one-of-a-kind Blue Forest treehouse on Main Avenue. The public will be given the rare opportunity to view a luxurious treetop suite – the first accommodation treehouse we have exhibited at the show.
Created in collaboration with the UK's newest luxury spa and wellness hotel, Fairmont Windsor Park, in Berkshire, the treehouse exudes luxury while bringing you closer to the natural world we are so passionate about. Following the RHS Chelsea Flower Show, the treehouse will be transported to its new home on the grounds of Fairmont Windsor Park, where it will form part of their luxurious treehouse accommodation offering.
Located on the show's famed Main Avenue, the Fairmont Windsor Park Treehouse, by Blue Forest, will be immersed in a natural planting scheme by Randle Siddeley, a leading landscape architecture and urban design practice based in London.  In keeping with the theme of this year's show, native plants that benefit wildlife will be in abundance creating a relaxed feeling that adds a wonderful juxtaposition to the strikingly modern treehouse. Those with an eye for detail will notice the gorgeous William Holland outdoor bath, sustainably hand-crafted furniture and lighting by Tom Raffield, and a striking Myburgh Designs swing seat hanging below the deck.
"We are thrilled to be back at the Chelsea Flower Show this year and very excited to be collaborating with our good friends at the incredible 5* Fairmont Windsor Park Hotel to showcase a fabulous treehouse accommodation suite. It is one of the most ambitious builds we have taken on for the flower show to date, and we couldn't do it without the support of our many sponsors and partners. In particular we are delighted to be working with Randle Siddeley and his team who are designing the garden, so do come along and join us on Main Avenue – you won't be disappointed." Andy Payne, Founder & Managing Director, Blue Forest
Ryan Nicholls, General Manager at Fairmont Windsor Park said; "At Fairmont Windsor Park we are dedicated to offering the highest service standards across a variety of accommodation types, spa and wellness experiences and dining options. Our treehouses are an exciting addition to our already extensive number of accommodation categories and will offer guests a chance to connect with nature while taking in the stunning 40 acres of grounds. Joining RHS Chelsea Flower Show with our esteemed partners Accor and Blue Forest gives us a rare opportunity to showcase what our treehouses will feel like."
We love the natural environment and want to do all we can to protect it, that is why we promote sustainable principles and ethics throughout every stage of our design and build process, so you can rest assured that our treehouses are as eco-friendly as possible. Our structures use FSC-certified timber where possible to ensure that the materials we use come from well-managed forests and other verified recycled sources, helping reduce forest degradation and improve the labour and environmental conditions in the local area.
Each Blue Forest treehouse is a celebration of wood and natural materials and is finished to the highest standard by experienced craftsmen. This year we have collaborated with a number of companies whose vision and values are aligned with ours, and we thank them for their continued support and contribution to this year's RHS Chelsea Flower Show. 
Fairmont Windsor Park
Elegantly set beside the 4,800 acres of Windsor's Great Park with its historical monuments and ancient forests, Fairmont Windsor Park is a brand-new countryside hotel designed to reflect the site's heritage – where history and iconic elegance merge to create an outstanding destination. An elegant countryside retreat boasting more than 200 stylish rooms and lavish suites – what sets it apart is its heart for wellbeing. The sprawling state-of-the-art spa is a destination in itself, with 18 treatment rooms, a six-person hammam, a multi-person cryotherapy chamber, a 20m indoor pool, a Himalayan salt room, a courtyard hydrotherapy vitality pool and a Japanese Ashiyu foot ritual bath. Offering a variety of sophisticated culinary concepts and a wealth of activities within the grounds, Fairmont Windsor Park is an idyllic, refined English countryside escape, within close proximity to Heathrow Airport and Central London.
In addition to this, The Fairmont Windsor Park will be launching their Luxury Treehouse Collection in 2022, set within the magnificent grounds of the Hotel, you will feel like you have escaped to your own private woodland retreat.
Fairmont Windsor Park is owned by the Arora Group and operated in partnership with Accor and their Fairmont brand. Fairmont Hotels & Resorts is where the intimate equally coexists with the infinite – an unrivalled portfolio of more than 80 extraordinary hotels where grand moments of life, heartfelt pleasures and personal milestones are celebrated and remembered long after any visit. Since 1907, Fairmont has created magnificent, meaningful and unforgettable hotels, rich with character and deeply connected to the history, culture and community of its destinations – places such as The Plaza in New York City, The Savoy in London, Fairmont San Francisco, Fairmont Banff Springs in Canada, Fairmont Peace Hotel in Shanghai, and Fairmont The Palm in Dubai. www.fairmont.com 
The Arora Group is a successful UK-focused private group of companies, which leverages synergies across its specialist property, construction and hotel divisions to its strategic advantage. Since 1999, the Group has built its standing through meticulously managing projects from inception to delivery and beyond. Today, it owns and manages a diverse portfolio of flagship assets across the nation's key business locations, partnering with some of the world's most recognised brands to deliver consistently high service levels and sustainable growth. www.thearoragroup.com
Randle Siddeley Limited
Randle Siddeley Limited, a leading landscape architecture and urban design practice in London, is responsible for the design and planting scheme at the show. We have been worked with Randle Siddeley for a number of years, and cannot wait to work with them on this year's RHS Chelsea Flower Show. They have experience in master planning, landscaping and public realm designs in some of the most iconic and recognizable areas of London, Hong Kong and Shanghai. www.randlesiddeley.co.uk
Tom Raffield
Tom Raffield is one of a new generation of designers and makers, using the craft of steam bending in innovative and contemporary ways. His purpose is to create new ways of living with his original, timeless objects that are inspired by the natural world that surrounds him in Cornwall. Tom Raffield's range of artisan homeware, which will be showcased inside the treehouse, is handcrafted by him and his team of skilled craftspeople to last a lifetime using traditional craft processes in the most sustainable way. Their collective aim is to transform spaces and leave a lasting impact without having an impact on the planet. www.tomraffield.com
A Special Thanks to all our Sponsors
We would like to say a huge thank you to our sponsors who have been absolutely brilliant this year:
Roofing by: Excel Roofing Services
Excel Roofing has offices centrally located at Bishops Waltham to service Hampshire, Dorset, Berkshire, Surrey and West Sussex and provides a competitive supply and fix service that encompasses all your roofing needs including roof tiling, slating, flat roofing, single ply, metal cladding, specialist leadwork service, solar panels and green roofs. www.excelroofingservices.co.uk
Doors and Windows by: IDSystems
For 20 years, IDSystems has set the standard for the design and installation of glazing, including bifold doors and sliding doors for residential and commercial properties. From extensions and renovations to self-builds and complete Grand Design TV projects, we set the benchmark for innovative, high quality glazing systems. www.idsystems.co.uk
Cladding by: Vincent Timber
Vincent Timber, a family-owned company now in its fourth generation, is the premier supplier of timber cladding options in the UK. We manufacture and distribute an unrivalled range of high performance and aesthetically pleasing natural timber products. www.vintencttimber.co.uk
Flooring by: Havwoods
Established in 1975, Havwoods' commitment to quality, expertise and service has made them Britain's foremost wood flooring company supplying architects, specifiers, and private residences. They concentrate almost exclusively on wood flooring: engineered and solid wood for floors, cladding and joinery, in all situations, in a wide variety of species and with every conceivable finish. Sustainability is in the heart of Havwoods and they source products only from sustainably managed forests. www.havwoods.com/uk
Decking by: Chiltern Timber
Chiltern Timber is an independent 'Timber & Sheet Material Importer, Sawmiller & Merchant' who still believe in the old traditional values of quality and service. They have an excellent reputation for consistently providing high quality products and service which is based on their strong belief in the principles of unbeatable quality, wide selection, dedicated service and prompt delivery. Chiltern Timber have supplied the Millboard decking for the treehouse. www.chilterntimber.co.uk
Outdoor Bath by: William Holland
As the original creator of contemporary Copper Baths William Holland hold a global reputation of excellence. With over 35 years combined experience in specialist manufacture and British Copper Bath design, they pride themselves on creating bathware of exceptional quality and beauty. Inspired by the iconic design heritage of 19th Century France, their highly skilled team of British Master Craftsmen hand finish every bath and basin to order creating functional works of art. www.williamholland.com
Bespoke Swing by: Myburgh Designs
If you require truly original furniture made with luxurious organic materials to create your own personal paradise, then Myburgh Designs has a piece to suit you. Many of their swings are perfect for the indoors or out. Each individual swing chair allows you to interact with it in a personal way – some invite you to curl up within them, while others request that you fully recline with your feet up. www.myburghdesigns.com
If you would like more information on our RHS Chelsea Flower Show Treehouse, or any of our other designs, please do get in touch by calling 01892 750090 or emailing info@blueforest.com – we would love to hear from you.