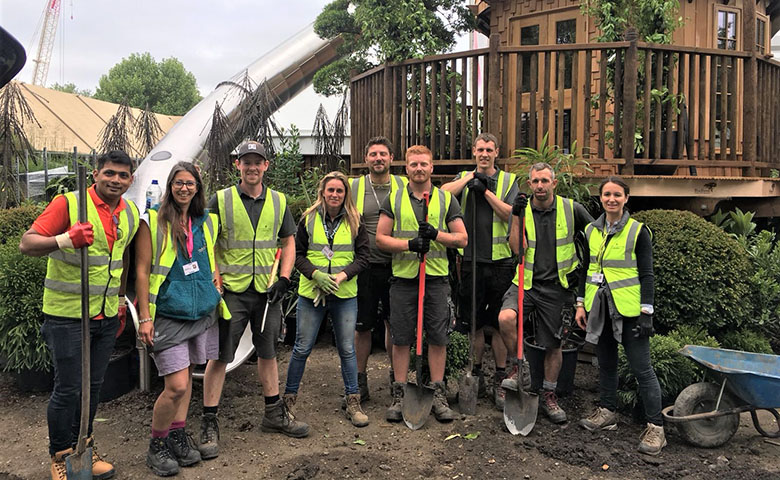 With the right planting scheme, a shaded area of your garden can become so much more than just a gloomy and unused spot. We speak to Guy Watts from Architectural Plants – the horticultural gurus behind our RHS Chelsea Flower Show exhibit – for their expert guide to creating beautiful planting schemes in the shadows…
For the last two years, Architectural Plants have overseen our RHS Chelsea Flower Show planting schemes and 2019 will be our third year working with them as a partnership. We love how like-minded we are – we certainly share the same love of nature and the great outdoors!
Work with the experts
Set within 32 acres of Sussex countryside, the Pulborough-based nursery are known for providing plants that are exotic and shapely. If you're looking for Japanese topiary, hardy palms, bananas, bamboos, plants for screening and rare evergreen trees, then they're the people to speak to!
In addition to their spectacular nursery, Architectural Plants provide garden design, planting and creative maintenance services for both residential and commercial clients. You can find out more about their services at www.architecturalplants.com
Guy Watts is the co-owner, MD and Special Projects Manager at Architectural Plants. He's led multiple award-winning RHS Chelsea and Hampton Court Palace Flower Show gardens, along with a planting installation for the Burberry flagship store, multiple projects working with London-based property developers and a long list of residential designs and builds. If there's anyone who can give advice on planting, it's Guy!
Assessing the conditions
It's always worth looking at the conditions of your garden first before you start to look for plants. After the show, our Chelsea treehouse will be transported into the grounds of Chewton Glen Hotel. (See our news story here for more information on the exciting collaboration.) This was ultimately the defining factor for choosing the plants, which will be planted under and around the treehouse once it is moved to the hotel.
'We've had to create a show-stopping, Chelsea-worthy planting scheme that will also be ideal for the conditions at Chewton Glen,' explains Guy. 'Our Design Manager, Debbie Boxall, visited the woodland site at the hotel to assess the light and the soil that the plants will be in after the show. The treehouse will sit in quite an idyllic, shadowy forest area and many of the plants will be growing directly under the structure itself. From the very beginning, we've had to focus on plants that are happy to thrive in the shadows.'
Keeping it natural
It's always easy to assume that there is little hope of making darker parts of a garden look nice, but by carefully selecting the right plants you can instantly give those areas a new lease of life. 'While finding plants that grow in lower light levels is a little harder, it's still possible to create interest in the shade,' says Guy. 'We also had to keep the woodland surroundings in mind, so the planting scheme had to look natural to blend in with the existing trees and foliage.'
"If I had my own treehouse, it would be a mix for children and adults with a zip wire. It would be great to have a cinema room so you can watch movies up in the trees." – Guy Watts, Architecture Plants
In our exhibit, there is no additional hard landscaping to add structure or definition, only plants. As their name suggests, Architectural Plants love to arrange plants in a way that creates structure, shape and form. They have included lots of multi-stemmed species into their scheme which will bring height and presence to the exhibit.
'Designing a scheme for an RHS Chelsea exhibit has its own set of challenges,' says Guy. 'You're working within a very small space, and you always have to keep the logistics in mind. The exhibit is a rectangular shape which can0 be viewed from all sorts of angles, even from above in the treehouse! We are planning on planting the whole exhibit in just one day, while a lot of the show gardens get a few weeks. We have to work quickly, transforming the space with a carefully planned scheme.'
Essentially, Architectural Plants have had to create a design that visually works well from all angles, will blend in with woodland surroundings, can be planted within a day, and will happily grow without much sunlight. We think they've done very well indeed!
The Chelsea Scheme
To honour the RHS's Back To Nature feature garden at the show, which is being co-designed by designers Andree Davies and Adam White with HRH The Duchess of Cambridge, Architectural Plants have chosen plants that have a purpose. Many are either edible, scented or have medicinal properties.
Plenty of evergreen plants have been included to bring year-round interest to the space around the treehouse, and the team have also chosen to have a few more insidious trees than used in previous years.
Betula plants bring a new look to the scheme too, which are also known as Silver Birch. These have attractive white/silver stems and trunks which nicely contrast with the green foliage.
The Planting List:
If you're looking to recreate the look in your own woodland or shaded garden, you'll find the whole list of plants below…
Branching out with trees…
These add height, structure and vertical scale to the scheme. They can also be great for creating privacy in a garden.
Cause these are fillers…
Fillers are rounded or mounded plants that fill in the middle area of the planting bed or container. These plants will help to bridge the gaps between the taller trees, add lots of interest, and showcase the focal points of the arrangement.
Wonderful underplants…
These are needed to fill around or under the fillers with lower-growing plants, which makes the planting bed look full and luscious:
Deck the decking with plants…
If you don't have flower beds already incorporated into your space, you can use beautiful containers and planters instead. We'll be placing pots around the deck of our treehouse with these beautiful plants: