It's one of the most sought-after retreat destinations in the UK, with a loyal following of dedicated celebrity guests returning again and again. What does it take to run a decadent country hotel and spa? We share our exclusive interview with the man at the helm, Executive Director Andrew Stembridge…
It's revered as the champion of country hotels, the gleaming jewel of the New Forest that has redefined the very meaning of luxury holidays. Chewton Glen Hotel and Spa have long been renowned as the most famous country house hotel in the world and 50 years on continues to attract an international clientele, win industry awards and set the standard for others to follow.
With 75 luxury rooms, Treehouse Suites and a James Martin cookery school to boot, Chewton Glen is a five star, quintessentially English hotel with a reputation for premium service. Located on the edge of The New Forest National park, a few minutes stroll down 'Chewton Bunny' to the Solent coast and less than 2 hours' drive from central London, the 130-acre estate straddles the Hampshire/Dorset border.
For over five decades, Chewton Glen has constantly evolved and although it has retained the charm of an English country manor, it boasts facilities to rival many much larger resorts. Its strongest asset though remains the 300 strong team who are renowned for coining the phrase 'Effortless Hospitality'.
The ultimate retreat in the forest
One thing is for certain, Chewton Glen isn't simply a place to stay for the night – it's a traditional countryside retreat that feels like one big family, with a welcoming culture that guests love being a part of. Everything on offer is there to make you feel included, valued and cared for; from pampering parties and kids' clubs to hypnotherapy treatments, cookery workshops and public events. It's this dedication to their guests that have helped the hotel to build such a large, loyal following.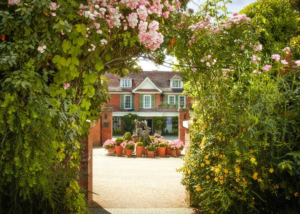 The hotel still boasts the first and largest hydrotherapy pool of its kind in the UK, a 17m Roman-themed indoor swimming pool decorated with ceiling murals. For 2019, their spa has introduced its own vegan product range inspired by the surrounding landscapes made in partnership with OSKIA – a British manufactured and multi-award-winning skincare brand. Fun extras include aromatherapy rooms, crystal sauna steam room and cold drench showers for the very brave. You'll be feeling completely pampered from top to toe by the end of your stay.
From traditional fare to the completely innovative, Head Chef Simon Addison, Executive Head Chef Luke Matthews and their talented team cook up a fine dining storm at the restaurant. Many of the ingredients are grown 100 yards away in their kitchen garden, with honey coming from their own beehives. Their Pool Bar serves daily Alkaline Buffet for those looking to maintain their body's PH balance and increase their energy levels.
The very height of luxury
Guests can choose to stay in the main hotel, which makes a pretty picture with its croquet lawn and beautifully manicured garden, or they can opt for a decadent night sleeping in the treetops.
Designed by Blue Forest, the four Treehouse Suites offer a truly exciting holiday experience for guests of all ages. Your every whim is catered for – with marble bathroom floors, mood lighting and breakfast hampers deliveries. Find out more about the treehouse designs by reading our case study here.
The driving force behind the hotel…
Andrew's entrepreneurial approach has seen Chewton Glen go from strength to strength with the addition of the hugely successful Treehouse Suites.
We ask the Executive Director what he loves about his job, how the Chewton Glen team are feeling about their first appearance at RHS Chelsea Flower Show and what he has planned next for the country hotel…
BF: Hi Andrew! Tell us about how you became Managing Director at Chewton Glen?
AS: I first started here as the Operations Manager in 1997 and left to achieve my goal of becoming GM of a five-star hotel by the age of 30 in my hometown of Edinburgh. In 2003 I returned to Chewton Glen as Managing Director where I have been for the last 16 years, however, 7 years ago I also took on the management of Cliveden, our sister hotel. We also recently added The Lygon Arms and 11 Cadogan Gardens to our collection, which we've very appropriately named the Iconic Luxury Hotels collection.
BF: It sounds like an interesting journey! What do you love the most about working at Chewton Glen?
AS: What I love most is the diversity of the role. One minute I might be looking at a new large project like the Treehouse Suites, which can completely transform the business, and then the next I'm looking at the smaller details such as the summer cocktail menu. Chewton Glen has always been renowned as a leader in the country house hotel scene and we almost feel that we have a duty to keep thinking ahead.
My other passion is developing people, and now that we have the four hotels we can provide some really exciting career opportunities. It's such a rewarding industry to be part of and growing our own talent is vital as the business expands.
BF: How is everyone at Chewton Glen feeling about being at the RHS Chelsea Flower Show for the first time?
AS: Very excited! We shared a stand with Alitex at The RHS Hampton Court Flower Show last year so we have an idea of what to expect. We know we are going to bump into so many of our regular guests and hopefully make some new friends too!
BF: What is the team looking forward to most about the show?
AS: It's the perfect platform to launch the new children's club facility and showcase Blue Forest's amazing craftsmanship. It will also be a good opportunity to spread the word, not just about Chewton Glen, but also the other Iconic Luxury Hotels.
BF: How do you think the children will like the new treehouse?
AS: Doesn't every kid want to spend time in a treehouse?! Pardon the pun, however, the new treehouse will definitely take our kid's club to new heights! We've decided to call it the Beehive, as it will be buzzing with activity!
BF: What activities will the treehouse be used for specifically?
AS: Everything and anything… ultimately, it's a blank canvas and it will be used for a range of activities, from a treasure hunt base to a face-painting studio when it's pouring with rain outside. There's going to be a big TV for movies and facilities for making hot chocolates. I have a sneaky feeling that some of our corporate guests are going to want to book outside the school holidays as an unusual meeting venue and it might even play host to the odd small dinner party.
BF: Why is the kids club such an important part of the hotel?
AS: We have been welcoming families to the hotel for just over a decade now, and in that time we have built up a reputation for being one of the best family hotels in the country. We want people to come to us and enjoy being together, however, we are also mindful that parents need some respite during the day. The kid's club is ideal for keeping the children entertained, letting them either run off some energy or kept busy if the weather isn't great. The club welcomes children of all ages and has a varied programme of fun activities. It's all part of the service we offer at Chewton Glen.
BF: Why do you think it makes sense for Chewton Glen and Blue Forest to work together for this new project?
AS: Our partnership with Blue Forest is almost 8 years old now, and in the same way that our Treehouse Suites are unique, so is what Blue Forest deliver. We genuinely love working with them and hence they were the only choice for this latest project! Who better to work with than the masterminds behind our Treehouse Suites? It was only right to collaborate with Blue Forest to design the kid's treehouse, especially as the original treehouses are so popular.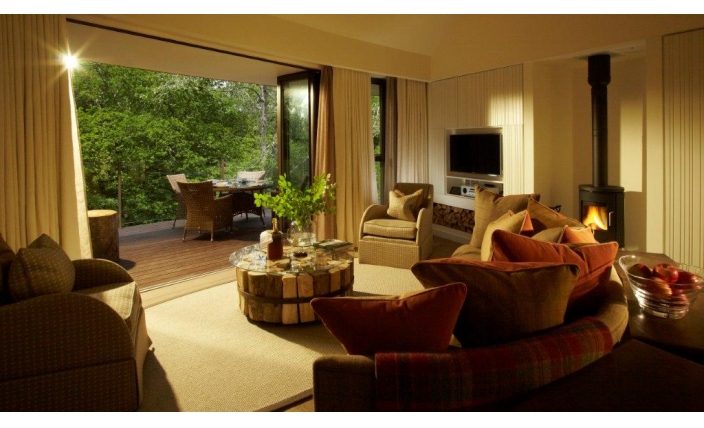 BF: What is it about the Treehouse Suits that makes them so popular with your guests?
AS: They are unique, peaceful and luxurious. Ultimately, the suites are completely bespoke and have been specially designed to cater to our guest's needs.
BF: Can you share any exciting stories from guests staying at the treehouses?
AS: We've had several weddings in them. Many people come to Chewton Glen to celebrate special events and hence we have seen every conceivable occasion. Our most recent Treehouse Suite, The Yews, even has its own kitchen and private chef if you need one.
BF: Obviously we're very excited about Joe Sugg and Dianne Buswell coming to join us on Press Day. Why was he the obvious choice for our Chelsea Flower Show exhibit?
AS: Most well-known guests love Chewton Glen because they trust us to be discrete, so we never talk about them. Having said this, Joe Sugg came to stay for a rest straight after 'Strictly' and loved it so much that he has offered to come and help us launch the new kid's treehouse at The Chelsea Flower Show. He is our new biggest fan, so I am sure he won't mind me mentioning this.
BF: If you had your own dream treehouse, what features would it have?
AS: Our Treehouse Suites have everything could you possibly wish for, from their own hot tubs to cosy wood burners. However, if I were building one for myself, I would have all the above but without the phones, TV and Wi-Fi. Our lives are so hectic and therefore having the opportunity to switch off from the outside world is vital. This is something our guests are well aware of, and our Treetox package is very popular. It combines a traditional detox cleansing retreat with a digital detox so that we can send guests home feeling physically and mentally better.
BF: With so many hotels and project to look after, you obviously work hard. What do you like to do in your spare time?
AS: I love being outdoors and I always feel blessed to live in the New Forest where we have the best of both worlds, namely a unique and historic landscape and the benefits of interesting coastline. Keeping fit is also important to me so I try and run and cycle a lot. Ultimately, I enjoy anything I can do with my family.
BF: Absolutely, you can't beat an outdoor adventure! What plans do you have lined up for Chewton Glen?
AS: The last few years have been so busy with the creation of the Treehouse Suites, the opening of the James Martin Cookery School, The Kitchen and now the kid's treehouse.
Thankfully we don't have any major development plans directly after this, however, everyone who knows Chewton Glen knows that we never stop. Later this year we have big plans for the spa and will be refreshing several of our suites in the main house as well. We also have a project to reduce our environmental impact, which is still bubbling away in the background.
Chewton Glen Hotel and Spa | Christchurch Rd, New Milton BH25 6QS, U.K | +44 (0)1425 275 341 | www.chewtonglen.com