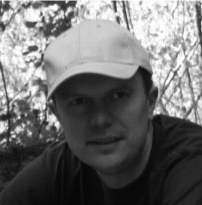 Meet the Treehouse Architect
11th February 2015
When budding architects graduate from designing childhood play dens to multi-storey buildings, a lucky few get to return to the dreams they harboured in their youth. Blue Forest's treehouse architect Marc Storms is one of them. 
Q: Designing treehouses sounds like an incredible vocation, but it's probably not something you start out studying for. How did you get into the industry?
When I started out as an architect I never thought I would design one. It makes a change after designing hospitals and office buildings which I did for many years!
Then I saw an advert for the position of Architect within the Blue Forest team. I applied for the job and have been happy ever since!
Q: What is your favourite part of the design process?
Making the composition work and transforming a concept or sketch into real construction drawings.
Q: I am sure you're given all kinds of briefs and fantastical requests. Are there ever any projects that have you thinking: "It's impossible, we'll never manage that!"
Yes a lot. In fact most of them. But we always find a way… they always work out somehow. I enjoy the challenge.
Q: Is there an idea for a tree house that you have been thinking of but have not been able to realise as a live project yet?
I would love to build a swimming pool up in the trees!
Q: Which particular project or element of a project are you particularly proud of?
We recently built a Georgian style tree house with an elaborate Portico. It featured two beautiful hand carved Tuscan order columns in solid oak… 5m up in the trees!
Q: What would your dream treehouse look like?
It would blend into the tree and the interior would be warm like the inside of cigar box.
Q: Complete the sentence: "Every treehouse should have…
… a soul"
Q: Are treehouses the new yachts?
Perhaps an old wooden (nicely varnished) one that has sailed on the seven seas…
Q: If you weren't designing tree houses what would you be doing right now?
Probably having a midlife crisis!
Related Articles

Built in Spain, the tree house provides a natural hideaway within the relative cool of the woodland. This unusual...read more

At Blue Forest, we strongly believe that the best place to be is up in the trees. So we got rather excited when we...read more

With the start of the summer holidays next week, you'll probably be on the lookout for things to keep the kids busy and...read more