It's no surprise that here at Blue Forest we are big fans of enchanting outdoor installations – especially when they are Christmas light installations! We recently came across the wonderful RHS Garden Wisley and were immediately impressed with the beautiful gardens, plant collections and educational workshops.
Over Christmas, Wisley transforms into a botanical wonderland; whether you love the festive season, or you adore nature, it's an ideal opportunity to go on an illuminated adventure like no other. At this time of year, what could be more festive than following a magical trail and marvelling at the glowing trees?
Whether they're holding a sculpture exhibition or arranging community allotment courses, curator Matt Pottage and the team have created an innovative centre of horticulture that will delight and inspire.
Like all RHS Gardens and flower shows, Wisley has an abundance of garden styles to explore and there is always something special to discover. There are 240 acres of magnificent gardens to explore at Wisely, with just as many exciting things to see in the winter.
The acers are still autumnal and awe-inspiring over in the Oakwood garden, and the Glasshouse Landscape is still and quiet with grasses and bare seed heads.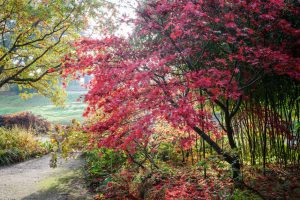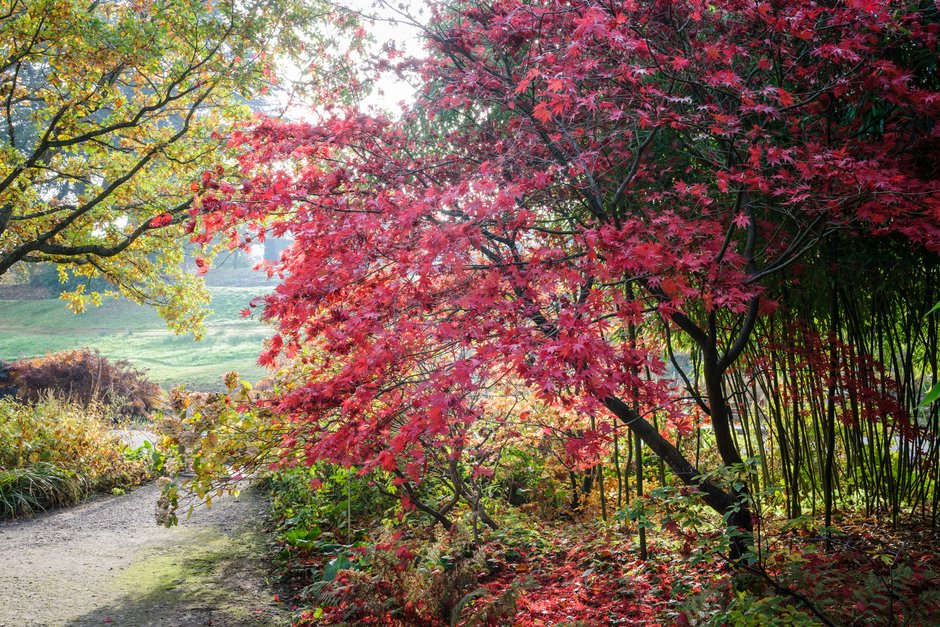 There are so many different examples of brilliant landscape schemes, so you're sure to be inspired with new ideas for your own garden with places like the Rock Garden, Alpine Meadow and Bonsai Walk.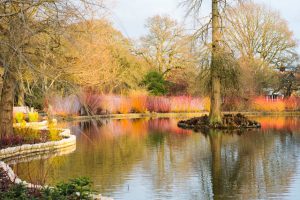 What to see at Glow:
First up, the sparkling light show represents the four different seasons; with pretty spring daffodils along the central lily-filled Jellico Canal and snowdrops sprouting up from the sweeping lawns at Seven Acres, red leaves in autumn and hellebores in winter.
Marvel at the beautiful architecture of the Glasshouse, bathed in vibrant colours from top to bottom. Inside, you'll find the Enchanted Botanical Christmas Display which has a rather cool steampunk theme, featuring festive plants and magical animals. Here you can watch the interesting production line grow the classic red Christmas plant, Poinsettia.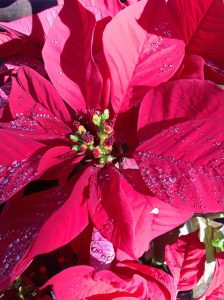 Fun fact; Poinsettia doesn't have red flowers, as you might assume. They are bracts – which are leaves which look like petals.
The cathedral-like Glasshouse at Wisley was built to celebrate the RHS's bicentenary and covers the same area of 10 tennis courts. What makes it so unique is its computer-controlled temperatures, which maintain three climate zones, allowing for plants that love tropical, moist and dry environments.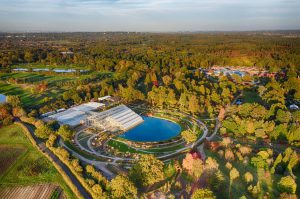 Plant enthusiasts will spot everything in the Glasshouse from banana trees, desert cacti and carnivorous 'Okee Giants'. A fantastic waterfall in the moist subtropical zone creates the effect of a cloud forest, which transports you into another world.
There's the Christmas Chalets to enjoy, too. From mulled wine to hot chocolate, fudge, cheese and artisan oils, this is a must for anyone taking charge of the cooking over the festive period. Enjoy sweet festive nibbles, as well as hot family meals in the food hall, or book a table in the Terrace Restaurant for a celebratory lunch or afternoon tea.
Why is Wisley so special?
Of course, with us being treehouse builders, we love the Jubilee Arboretum, where you can find both deciduous and evergreen trees. It's ideal for peaceful winter walks but make sure you're well wrapped up!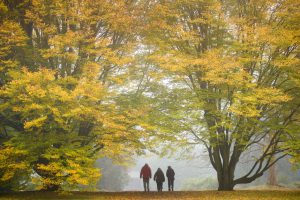 The arboretum was planted in 1977 to commemorate the Queen's silver jubilee, so the trees are still relatively young. However, this just reminds us of how precious our slow-growing trees are and highlights the importance of using timber harvested from sustainably managed forests.
To book your tickets for Glow 2019 and experience the wonderous gardens for yourself, check out the website here.