Back in the summer of 2016, we designed and built a breath-taking woodland playground for Dalkeith Country Park in Scotland. Offering 1,000 acres of beautiful grounds, Dalkeith was popular among local dog walkers and welcomed 15,000 visitors in 2015.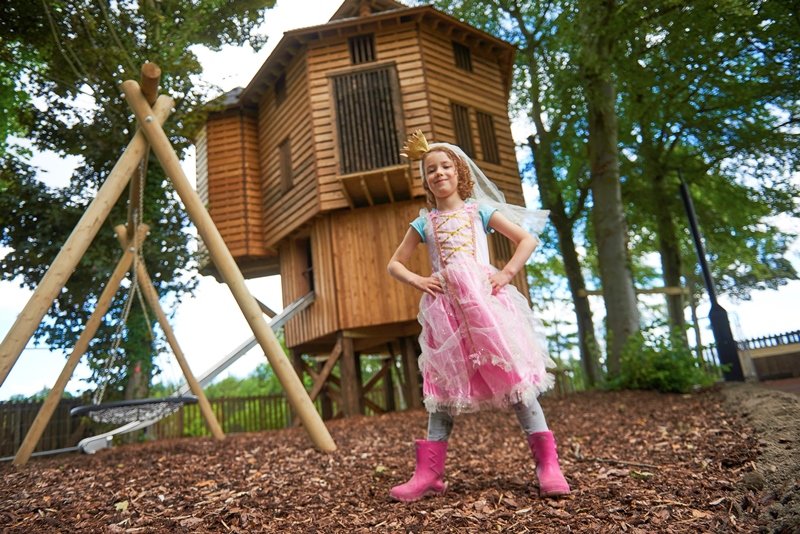 As part of a comprehensive £7 million redevelopment programme, the park underwent a complete revamp with a new restaurant, shop area and Wellbeing Lab. The plans also included a new playground to replace the old one which had been removed for safety reasons in the early 2000s. An upgraded logo and branding were also launched at the same time, to emphasise the park's new identity.
Woodland playground success after just a few weeks!
Blue Forest was tasked with designing a spectacular and interactive woodland playground. Named 'Fort Douglas', the playground features a network of high-rise walkways, balance blocks, climbing nets, jumble climbers, swings and slides. A spectacular Look-Out Treehouse sits at the very centre of Fort Douglas, featuring a maze of rooms and tunnels to explore inside. To access the Fort Douglas playground, children cross an entrance bridge with a unique 'kids only' feature – a mesh tunnel suspended above the water, creating a sense of adventure as children crawl under the bridge to hang safely above the River Esk.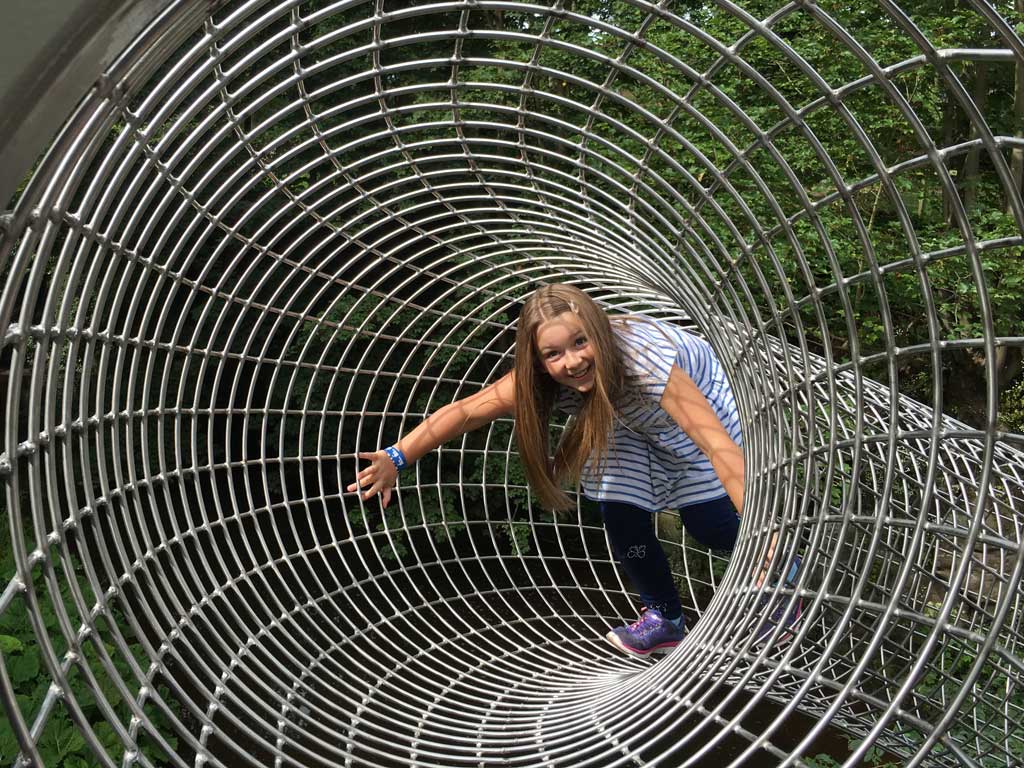 In the first six weeks, Dalkeith received an astonishing increase in admissions, with 57,000 people wanting to see the transformed park for themselves. Originally, Dalkeith forecasted an annual total of 300,000 people visiting the park following the rejuvenation but after a few months, they had to change expectations to 400,000. The playground played a crucial part in generating interest and attracting both locals and visitors from further afield. 'It's clear that people are mainly coming to use the playground', said James Palmer, Associate Director at Buccleuch Property, in September 2016. 'Everybody is talking about it'.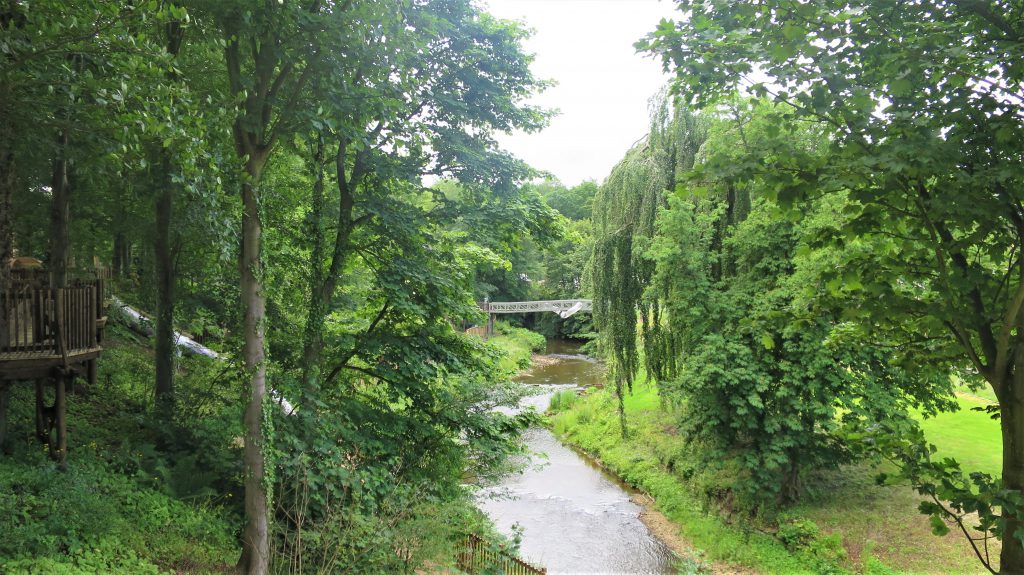 How did we go about designing the playground?
We were interested to get back in touch with our friends at Dalkeith, to see how the playground is still impacting the park three years down the line. Stephen Begg is the Sales and Event Manager at Dalkeith Country Park and talked to us about the park's original heritage as a play destination.  "Dalkeith was once associated with adventure play in the seventies and eighties when Dalkeith Adventure Park was a destination day out for families coming to enjoy the woodland slides and climbing structures.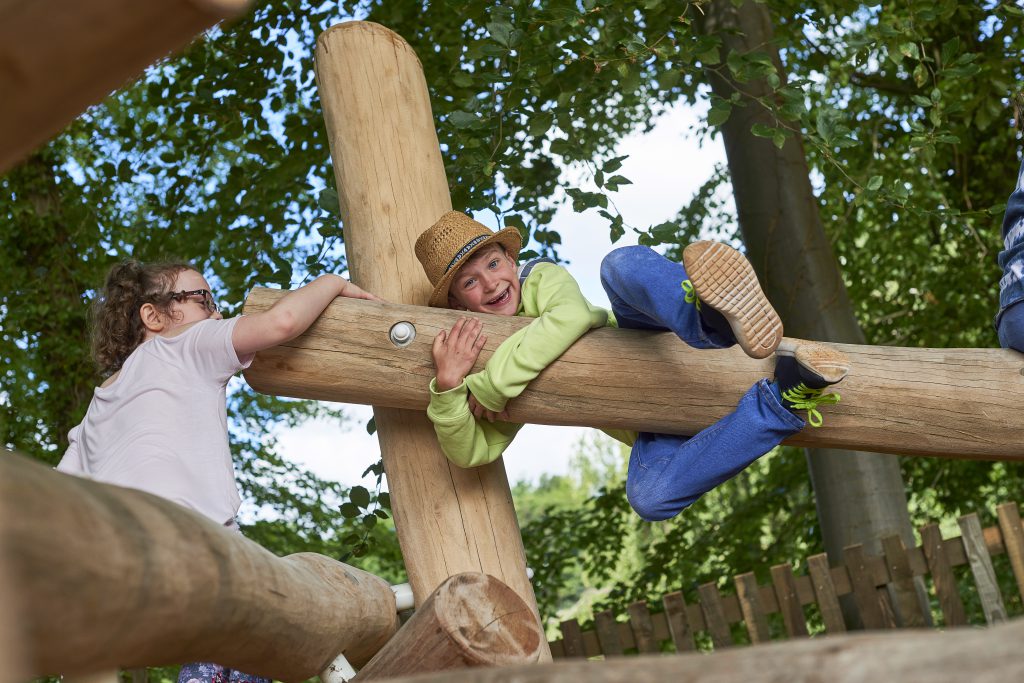 By the early noughties, the playground had become outdated and unsafe, and it was clear that it had to be taken down. Many locals felt particularly sad to see the playground they had once enjoyed as children be dismantled. Creating a new adventure playground in 2016 was key to our business model for the redevelopment of Dalkeith Country Park as a top visitor attraction. We wanted to create a play area that would evoke nostalgia in parents for their own childhood adventures here and introduce the park to a new generation. Blue Forest answered this brief by creating our amazing fort, embankment slide and scramble nets and more. All the structures are sympathetic to our woodland setting, and encourage children to enjoy imaginative play in the fresh air.'
Growing visitor numbers every year!
We were happy to hear that since its launch, Fort Douglas has welcomed over 230,000 children, and these figures are growing year on year. In the first full year, from 2017 – 2018, the playground received 98,743 visitors, and this has grown to 131,519 from 2018 – 2019.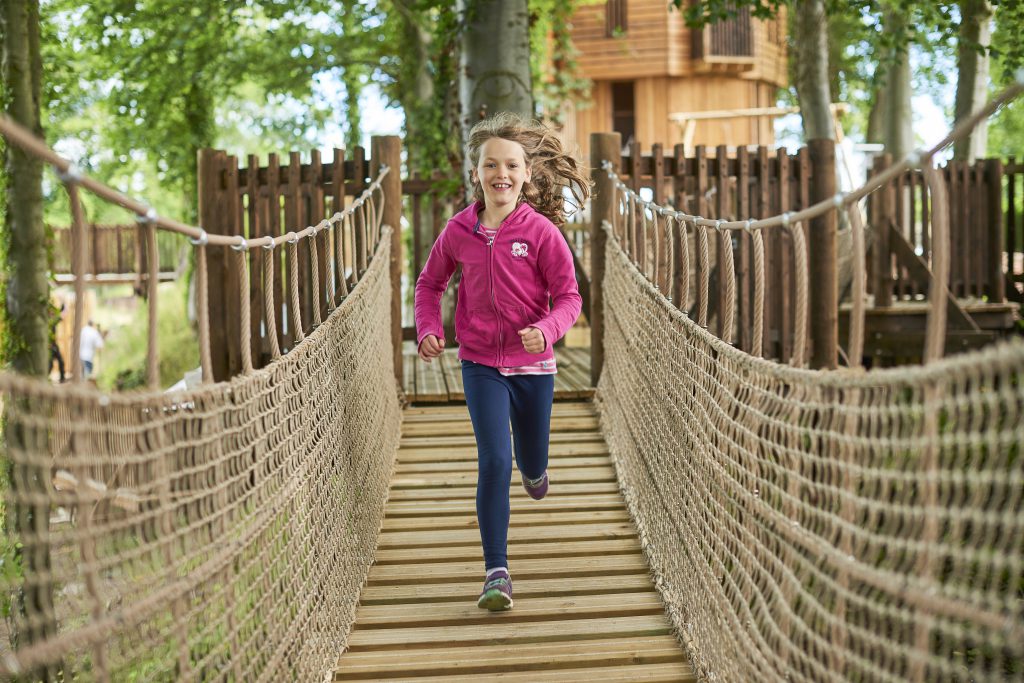 'For us, it's all about designing outdoor playgrounds that appeal to people's sense of imagination,' explains Andy Payne, Blue Forest's MD and founder. 'A good playground needs to offer something new and exciting, that children might not have seen before. That is the secret to creating a playground design that has the wow factor! When you encourage a feeling of adventure and tempt the kids into imaginative play, then they experience a real sense of joy and will always want to come back!'
Our woodland play areas are hand-built to our unique custom designs. Crammed full of play value, they will keep kids (and adults!) occupied, entertained and active for hours! If you have a particular project in mind and would like to discuss your ideas with us in more detail then please feel free to get in touch!