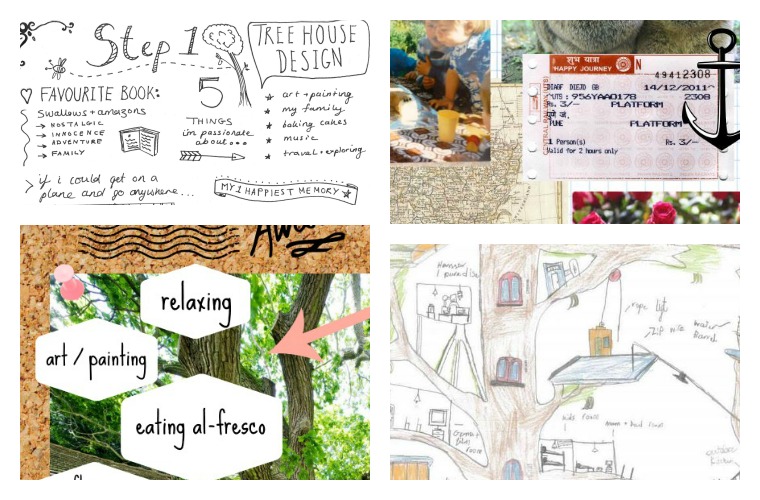 If you're thinking of having something truly magical and awe-inspiring built in your garden, how do you go about defining a treehouse design brief? Some of our clients have a clear picture in their minds of what they want, but for those who feel undecided we recommend making a treehouse scrapbook or mood-board to help spark the imagination. You might have an idea of what you don't like but with so many options it's very easy for your ideas to feel a little disjointed. A scrapbook or mood board can help you to discover your own personal treehouse style and communicate it back to us so we can turn it into a reality for you. This is an especially fun thing to make with the kids, and can really help you to confidently decide on a design that you will love for years to come.
It doesn't have to be a scrapbook either – it can be a massive bulletin board that you pin pictures and materials to, or you could go digital and set up a Pinterest board and share it with family and friends. There are so many options, but here are the main steps to follow:
Stage 1 – Your Treehouse Design Themes
This stage is all about clearing the chatter and drilling down to those core basics of what you want your treehouse to represent and how you want it to make you feel. Answer these questions and put your answers in the first page of your scrapbook:
What is your favorite film or book? What is it that you like about the plot?
What five things are you most passionate about?
If you could get on a plane and go anywhere right now, where would you go?
What is your happiest memory, and why?
What is your favorite way to spend your weekends?
What do you look forward to doing?
Finish the sentence: I need more ____________ in my life. A holiday should be______________. The best thing about the countryside is___________. Technology and gadgets are ______________.
At the very end, identify 4 or 5 themes that appear throughout your answers and label them 'My Treehouse Themes'. If you're getting into the new bullet journal craze, this would be a great format to use:
Stage 2 – Word Maps
Sometimes the right words just jump out at you. Get a collection of magazines and newspapers and flick through them. Which ever words pop out at you, cut them out and get them in your scrapbook. It's a great way to find words that you wouldn't normally think of which can really add to your treehouse design brief.
Stage 3 – Get Visual
Start gathering images that you like or feel inspired by. You could use old magazine or newspaper cut outs, post cards, drawings or images off the internet. Try looking through Instagram accounts too.
Stage 4 – Practicalities
Answer the following questions: who will use the treehouse? What will it be used for? What family requirements will it need to accommodate for? Write a list – literally brain dump everything. Then pick out the top five things as a priority.
Stage 5 – Add Special Touches
We find that the features in a treehouse that gets the most attention are the most meaningful ones. From customised initials on the walls to a Narnia wardrobe reflecting a childhood favourite story. Put together some images of things that are special or meaningful to you and your family. From lucky numbers, the birthday month of a loved one, a favourite sport or a holiday that gave treasured memories.

Stage 6 – Bring In The Kids
If you have children, this is a fantastic opportunity to get the colouring pens out. Children have the most amazing, limitless imaginations and can easily give our design team a run for their money!
Stage 7 – Your Treehouse Brief
You'll now have a really clear idea of how you want your treehouse to look. You'll know exactly what to include in the design and how you want to feel when you're spending time there. Pull everything together into one completely personal treehouse design brief. With all of this information, the Blue Forest team will come and visit you to check out your garden and the surrounding trees and discuss all of your options with you. Once you're happy with everything, we can start work on developing designs for your dream hideaway!