No longer an outdoor hideaway built exclusively for young children, treehouses are now transforming the luxury holiday industry. Ideal for adults looking to escape everyday life and experience an other-worldly alternative to a standard hotel, they've become the new 'in' thing for weekend breaks, offering the chance to relax and re-energise amongst nature. With a range of quirky and creative designs, luxury treehouses can now be used for a number of purposes, from self-catering lodges to sumptuous hotels and safari lodges… Here, we take a look at some of the most breathtaking treetop structures from around the world.
1. Amberley Castle Treehouse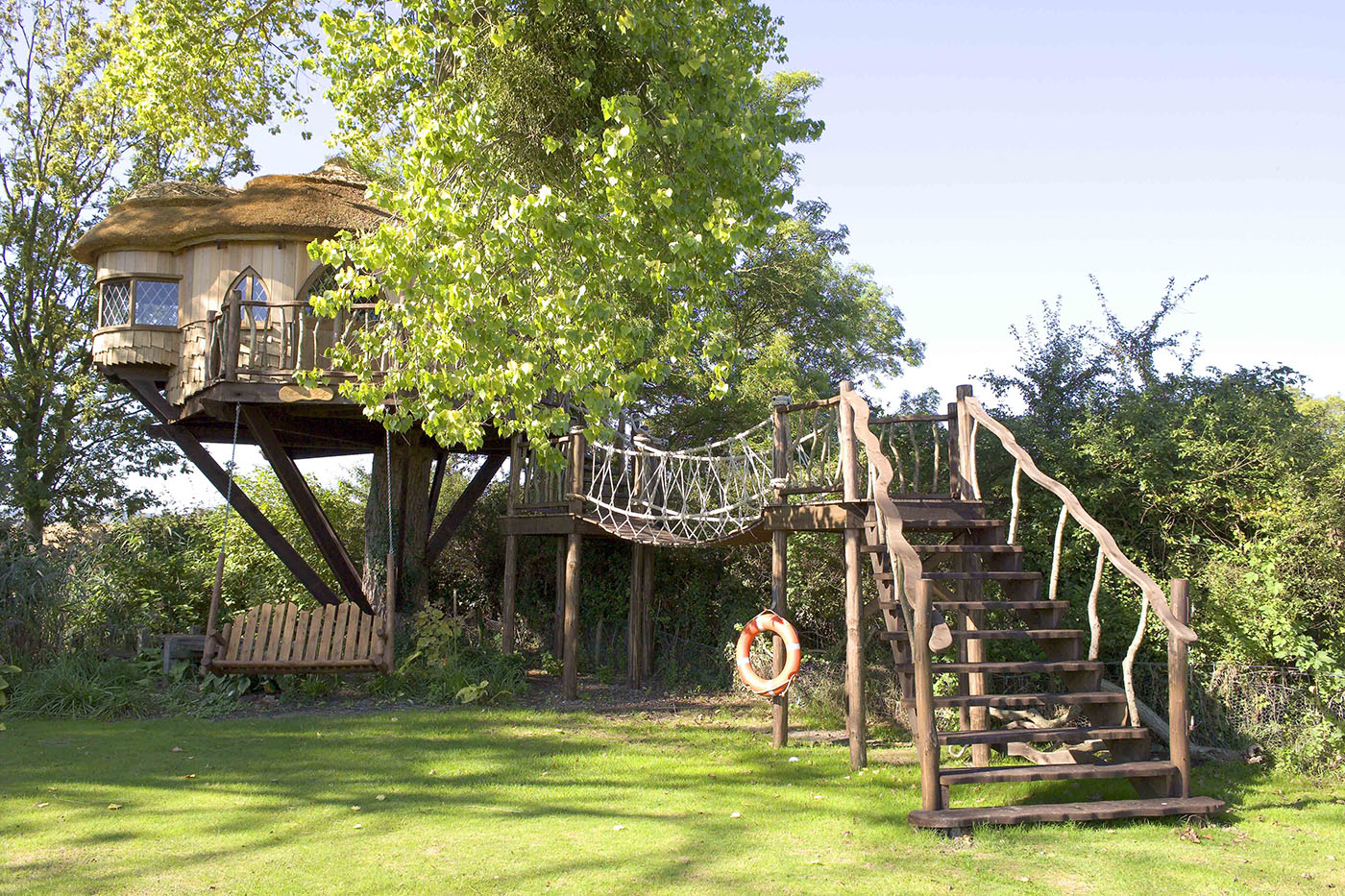 This fairytale style retreat is located in the South Downs National Park, in West Sussex. This beautiful castle is a one-of-a-kind hotel with an impressive 900 year history. Nestled in the grounds, among the bushes, trees, and flowers, sits Amberley Castle Treehouse. The structure has a rustic design, with its exterior and interior walls finished with sustainable cedar panelling which have been added vertically to create height. A gorgeous pair of antlers mounted to one of the walls gives a rural, country feel to the interiors. The lower half of the treehouse boasts hand-split oak shingles, which have been placed irregularly to break up the space and complement the rough bark of the surrounding trees. The getaway echoes the hotel's stately design and luxury style, offering a special romantic charm to its visitors. Its fairytale Rapunzel feel is reflected in its gothic arched windows and spiral staircase leading to the main building—don't miss the nestled window seat, perfect for relaxing and reading.
2. The Bert Treehouse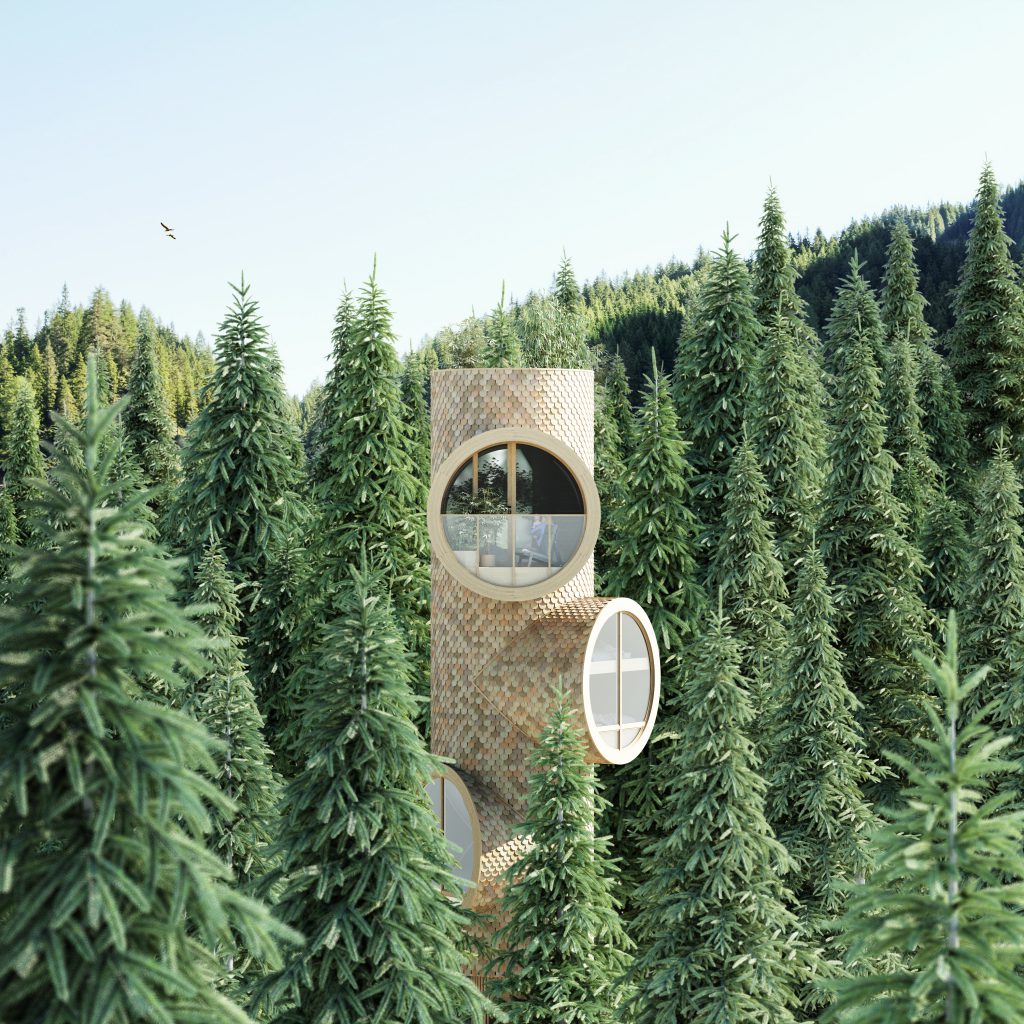 Unusually, the Bert treehouse is designed to look like the one-eyed Minion characters from the well-known kid's movie, 'Despicable Me'. Created by architecture studio Precht, husband and wife team Chris and Fei Tang Precht designed the treehouse for Baumbua, a startup company building tiny homes. For the design, they took inspiration from the movie for a more playful approach, looking at alternative forms of art and design. The modular treehouse is shaped like a tree trunk with large round windows, with dark interiors which create a cosy, cave-like atmosphere. It's made of wood with leaf-like shingles, blending it in with the forest setting, and has a kitchen, living space, bathroom, and bedrooms.
3. Deer Park Treehouse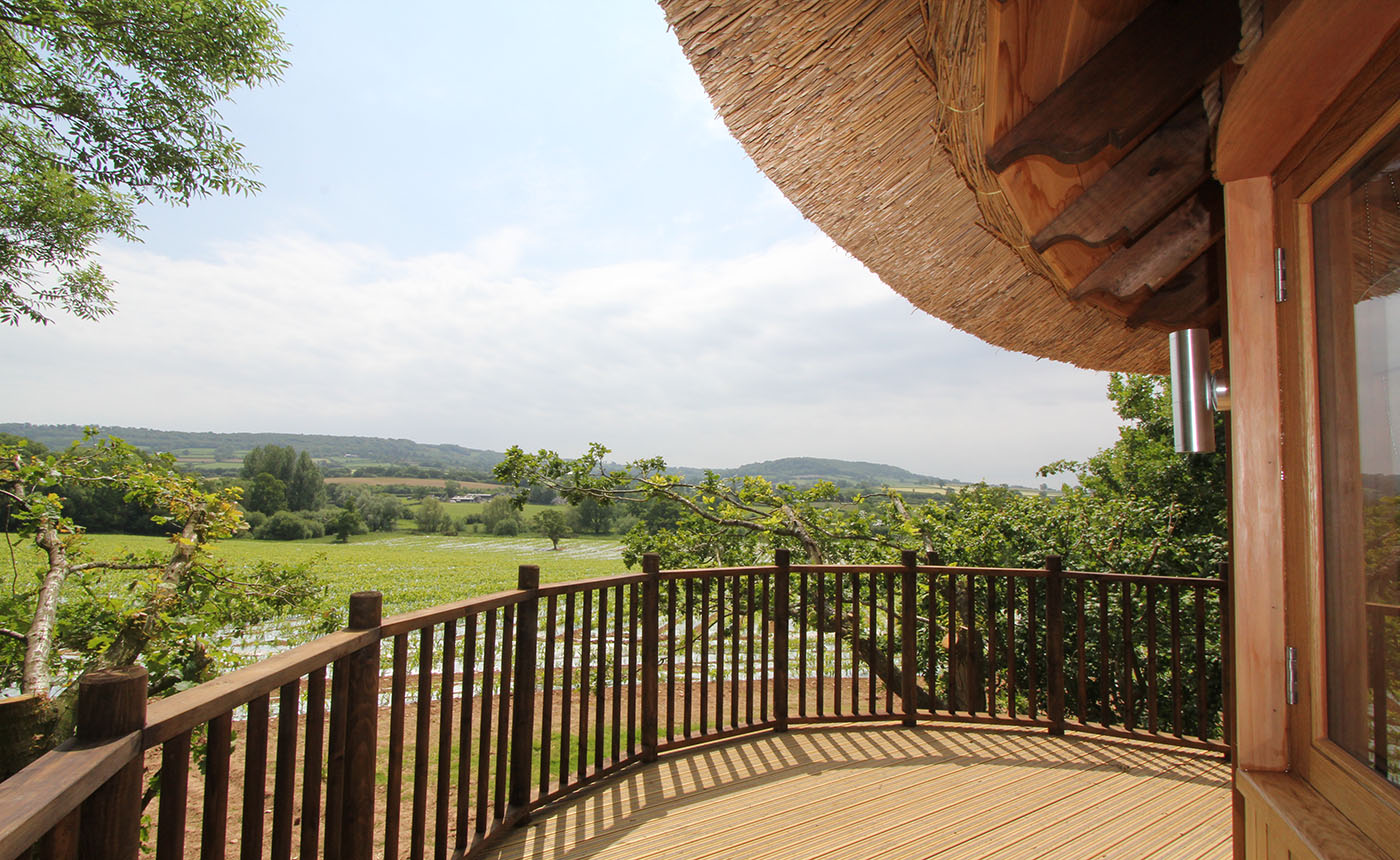 From our Made to Stay collection, Deer Park Treehouse in Devon was designed and constructed after the owners of Deer Park Hotel—a very quintessential English mansion dating back to the 18th century—wanted something a little different to offer their customers. As the venue is popular for weddings, the design had to represent the romantic ambience of the grounds. The treehouse is nestled between several oak trees and positioned carefully between branches to provide guests with some privacy. Its design respects the surrounding environment, protecting the well-being of the nearby trees and landscape. As a result, it stands independently from any trees and is supported by timber stilts. Deer Park Treehouse may be the perfect alternative for a wedding night, with a finely furnished double bedroom and living area, a beautiful front deck to admire the views, and a spiral staircase made from sustainable timber.
4. Alnwick Treehouse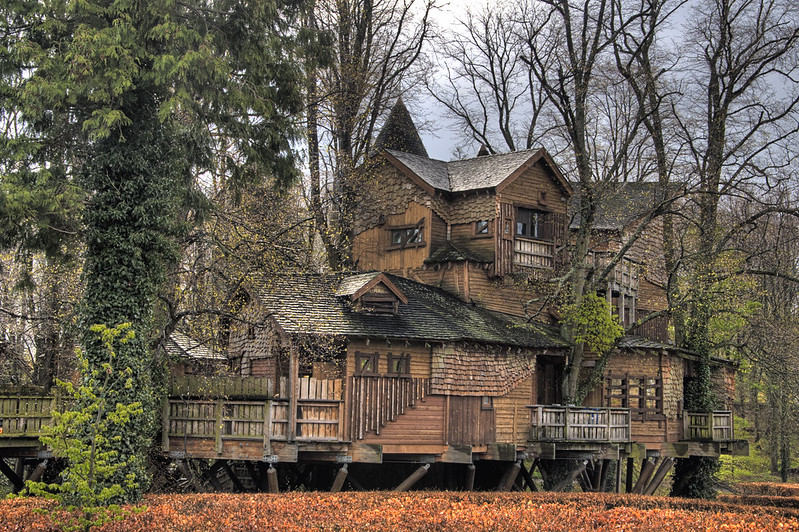 Located in Northumberland, the Alnwick Treehouse in Alnwick Gardens has been recognised for winning Loo of The Year, among other things!Not an award anyone might ever expect a treehouse to win, but the toilet facilities inside this particular structure aren't like the standard bathroom. The walls have been designed to blend into their surroundings by resembling tree bark, the ceiling is set with twinkling lights, and there's an elegant marble sink. Its structure is spread across many trees, with a main house featuring two towers and decked area, two subsidiary treehouses and walkways in between, and even a wheelchair-accessible rope bridge loop. The treehouse was designed by Newcastle-based Napper Architects and built by Sir Robert McAlpine.
5. Trewalter Treehouse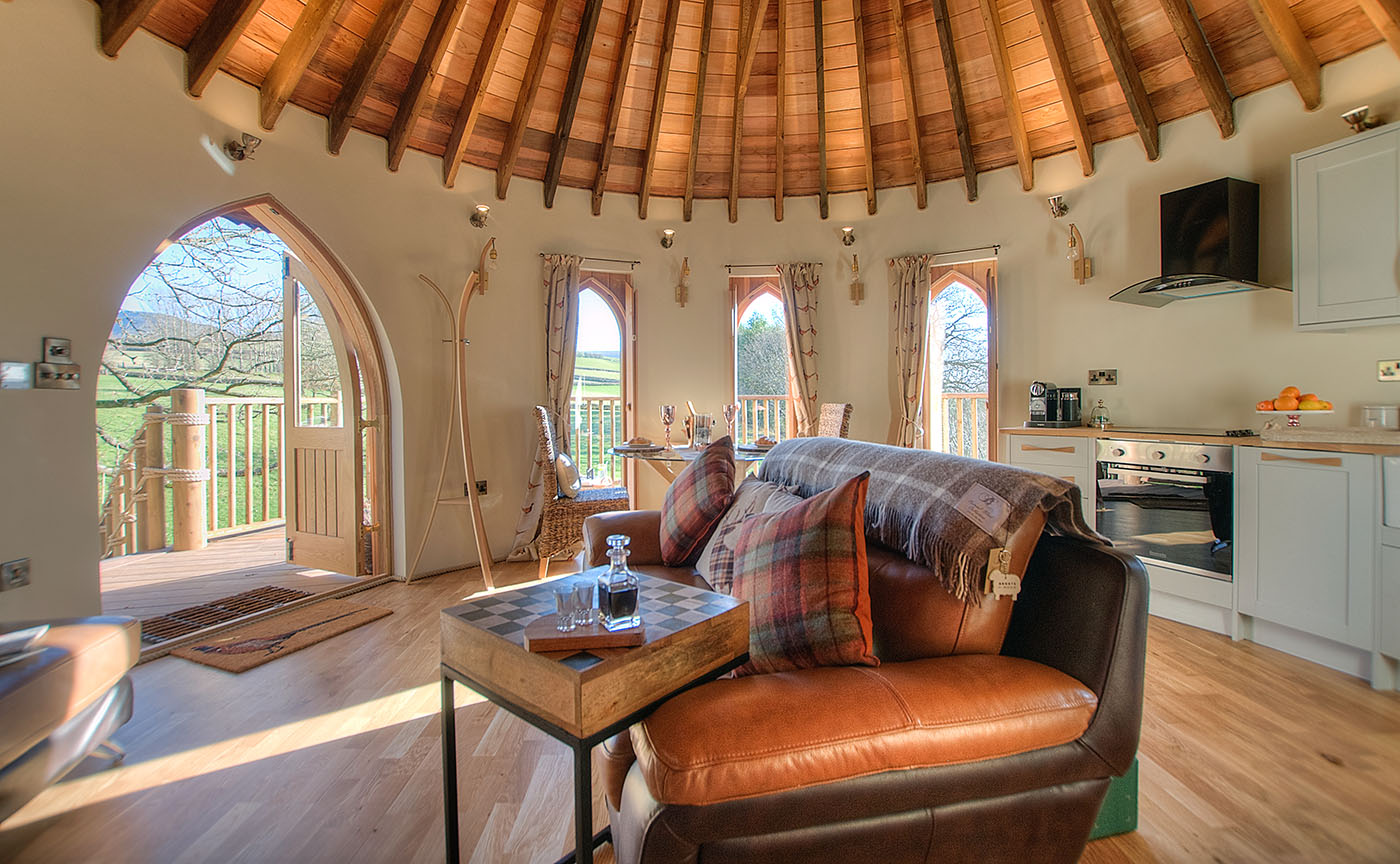 Located in the Brecon Beacons, in Wales, this treehouse is ideal for couples wanting a romantic getaway. Trewalter Treehouse is perfectly positioned against the stunning backdrop of Pen y Fan, the highest peak in South Wales, and offers all of the creature comforts for a weekend away in the Welsh countryside. Featuring a luxury hand-crafted acacia double bed with a cashmere mattress, this treehouse is guaranteed to leave you feeling relaxed. Trewalter treehouse oozes elegance and sumptuousness, with its wooden arched windows and spacious living room leading to a decking area, perfect for a glass of wine or two. Staying here in this treehouse may seem like you're living in a fairytale castle.
6. Treehotel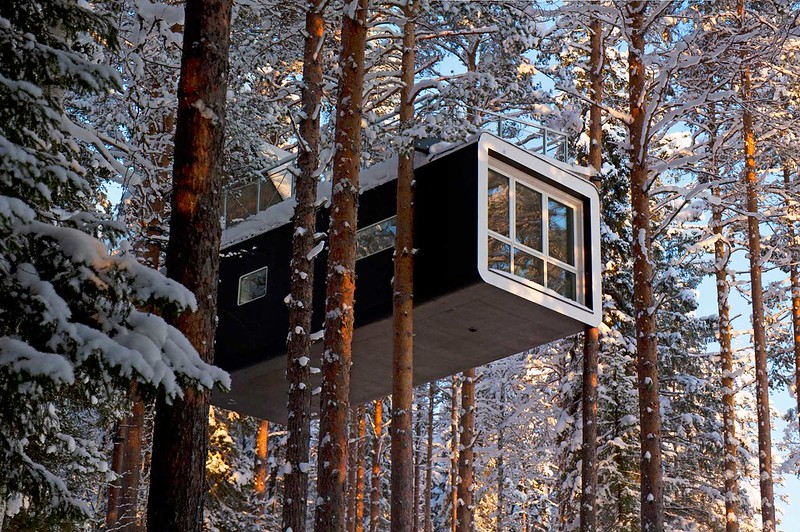 The Treehotel in Sweden consists of six different themed rooms, providing a truly extraordinary experience like no other hotel. This includes the mirrorcube, a treehouse with mirrors surrounding the outside walls which both reflect and blend in with the idyllic forest setting and give off the illusion that the room is glass from floor to ceiling. The bird's nest room resembles its name and guests enter through a hatch after climbing a ladder. Meanwhile, the alien-themed UFO room looks exactly like a spaceship, with furniture matching the space-theme with a starry-sky ceiling to finish the look off. Each room sits in the middle of unspoiled nature, providing the perfect escape for those seeking solitude and has attracted the attention of international designers and celebrities.
7. Tongole Wilderness Lodge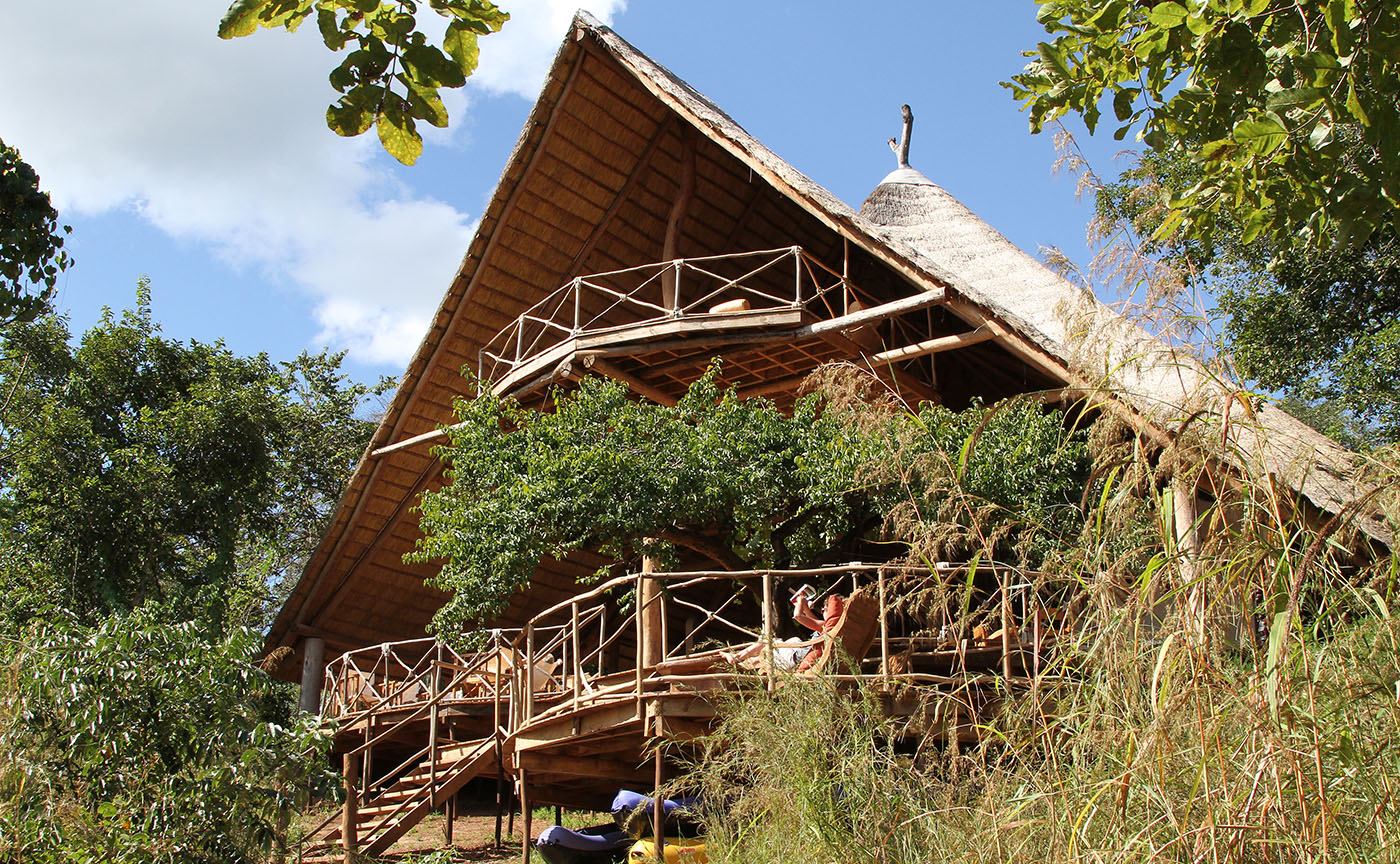 This eco-lodge in Malawi, Africa allows guests to experience the wilderness without disrupting it. The lodge is part of a project initiated by The Tongole Foundation, a charity devoted to helping local people improve their lives through sustainable tourism. The lodge provides the community with a source of income and therefore helps to conserve the continent's wildlife by giving an alternative to poaching. What makes this treehouse unique, is that it is built from the same natural red earth that it sits on, and the wood, rocks, and thatch have been sourced from the surrounding environments. The lodge boasts open-plan luxury rooms, some with observation desks perfect for watching elephants frolic in the nearby river and an array of colourful, exotic birds nesting in the trees. Its main building is centred around two towering tree trunks, with a spiral staircase curving around one tree and leading down to a lounge overlooking the river.
8. Yellow Treehouse Restaurant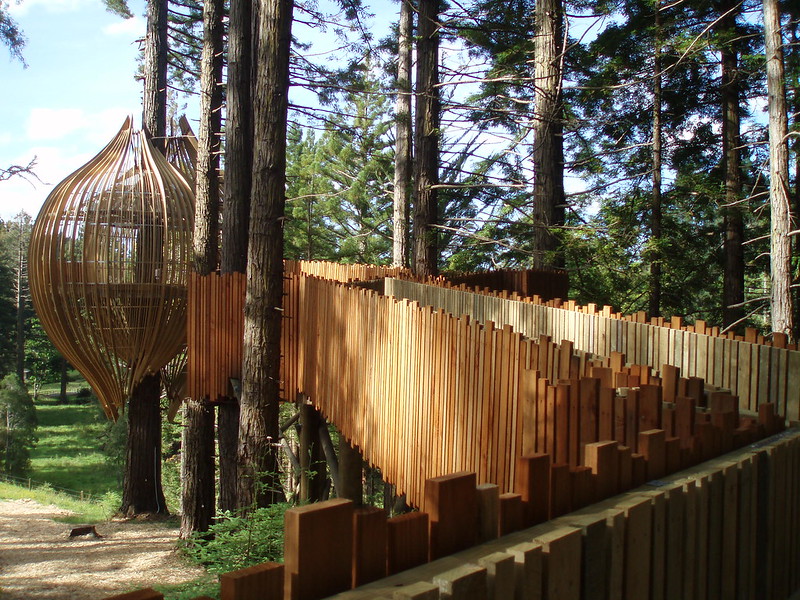 This restaurant in the trees is located in Auckland, New Zealand and was designed by architects Peter Eising and Lucy Gauntlett in 2009. It's built above an open meadow and nearby stream on an enormous Redwood tree towering over 40 metres high. It's the treehouse you dreamed of having as a child, with a design inspired by natural shapes… From the outside, it appears to look like a cocoon protecting an emerging butterfly, or can be seen as a lantern. The restaurant is an oval-shaped structure wrapped around a tree trunk with a circular plan allowing diners to experience a playful treetop walkway. The idea was to source the products and services used to construct the treehouse through the Yellow Pages listings.
9. Yoga Studio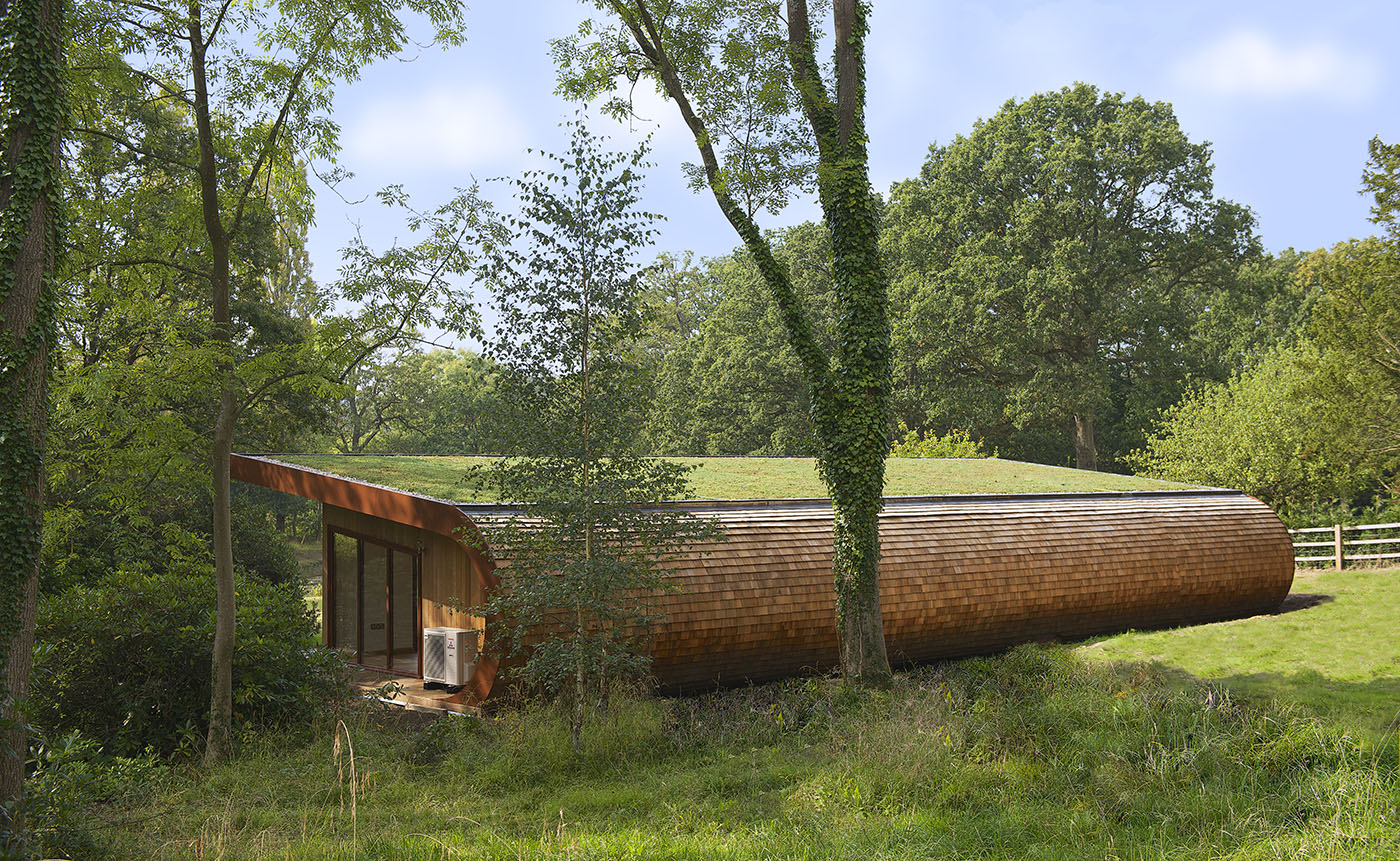 One of our Built for Education tree builds, the Sp8ce Yoga Studio in Surrey is an elongated cuboid with a dramatic curved face. The owner of the yoga school wanted a soothing and peaceful environment for their students, and to offer something slightly different to the standard yoga studios commonly found in the city. The studio boasts a living green roof which blends into the natural setting, as well as several sets of large sliding doors letting in the natural sunlight and a large veranda made from Kebony, a sustainable timber. Adding to the environmentally-friendly aspects, the studio has excellent airtightness providing high-quality insulation, and an overhanging soffit—a piece of board often used in roofing—to reduce solar gain and low energy fittings.
10. Arctic Treehouse Hotel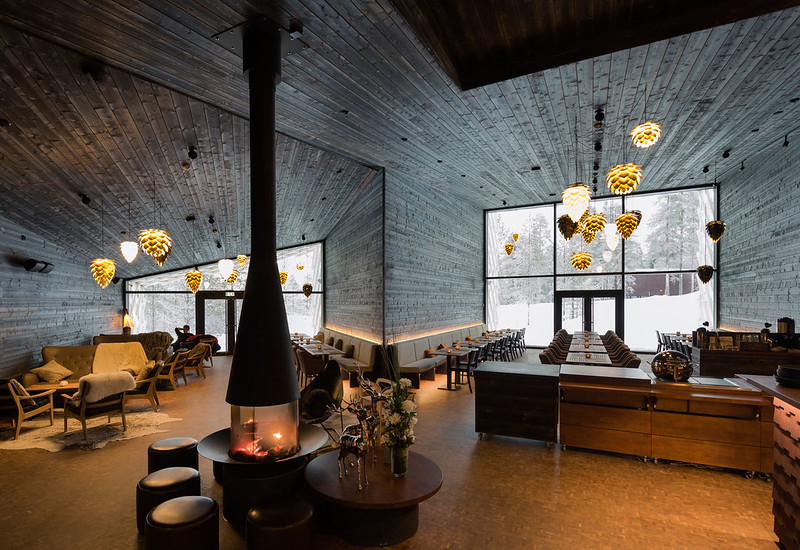 The final structure on our list of treehouse designs is a hotel in Lapland offering jaw-dropping panoramic views of the surrounding snow-covered forests. The shingle-clad cubic chalets that make up the Arctic Treehouse Hotel stand on the hillsides supported by stilts and offer an escape into nature like no other. The owners have a deep respect for the surroundings which transpires in the buildings and landscape, with an initiative to plant 5,000 to 10,000 new seedlings every year. Each treehouse is eco-friendly, built with sustainable materials and Finnish wood. They also have green roofs, eco-showers with hot water restrictions, and rooms that are heated using natural gas.

If you are thinking of having your own treetop retreat, contact Blue Forest today to get your dream treehouse started.